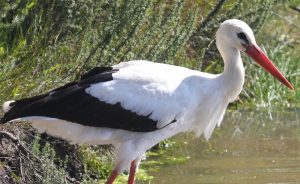 White storks have been released into the wild in Britain in the hope they'll breed for the first time in more than 600 years.
Twenty-four young birds have been set free at Knepp, in West Sussex.
Eight have GPS tags, and one has already flown as far as the Hayle Estuary in Cornwall.
The birds – hunted to extinction in the 1400s – are the first batch of 50 breeding pairs set to be released by 2030.
They can live for 30 years and have a seven-foot wingspan.
White storks were often the centrepiece of medieval banquets and in folklore carried new-born babies in a swaddle.
Lucy Groves, from the Durrell Wildlife Conservation Trust, said:
"We have had reports from East Sussex, Southampton, Dorset and Penzance, where the birds wowed holidaymakers over the August bank holiday."
White storks build huge nests and were once a common sight in the UK.
The last breeding nest was recorded in 1416 in St Giles' Cathedral, Edinburgh.