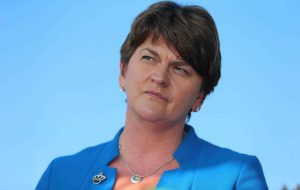 DUP leader Arlene Foster says she will not stand as an MP candidate if a snap general election was called.
Mrs Foster is currently an MLA – member of the legislative assembly – at Stormont.
However, the seat of the Northern Ireland Assembly has been suspended since 2017 after the collapse of a power sharing deal.
There's been speculation that Mrs Foster would stand as an MP.
She said: "My focus is very much on the return of devolution and the return of Stormont, that's what I am focused on.
"That and the fact that I want to see a deal to leave the European Union, I think those two big issues will be taking up a lot of my time over the coming weeks."
Mrs Foster said a Brexit deal is what should be focused on, rather than a general election.
But she added: "If an election is called, we'll be ready to fight the election and we will go forward on our record of delivery."