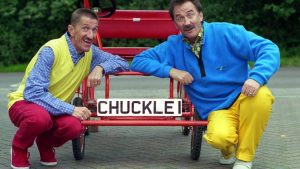 credit BBC
ChuckleVision has been named the greatest CBBC series of all time.
The show's 21 series – hosted by brothers Paul and Barry Chuckle – ran for more than two decades.
It started in 1987 and there were 292 episodes before it ended in 2009.
The slapstick children's programme gave the world its famous catchphrase – "to me, to you".
In a poll of 3,000 people for Radio Times ChuckleVision was a clear winner.
Paul Chuckle – real name Paul Elliott – said:
"In the words of me and Barry (changed a little) 'From me – to you'.
"Thank you as you have all helped put ChuckleVision where it belongs, at number one!"
Brother Barry died at the age of 73 in August 2018.
The top ten shows were:
ChuckleVision
The Story Of Tracy Beaker
Dick And Dom In Da Bungalow
Horrible Histories
The Sarah Jane Adventures
Blue Peter
Byker Grove
Grange Hill
Maid Marian And Her Merry Men
The Demon Headmaster