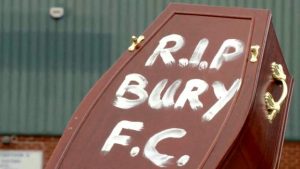 Bury FC has been thrown out of the Football League after 125 years.
The club – a former winner of the FA Cup – failed to find a buyer before the deadline.
Bury, who won promotion last season despite its problems, is the first club to leave the English Football League (EFL) since Maidstone in 1992.
A cross-party group of MPs urged the EFL to extend its deadline.
They are now calling for legislation to prevent clubs in the future being expelled.
Meanwhile, the EFL has called for an investigation into aspects of Bury's operations.
Debbie Jevans, who chairs the EFL board, said:
"Today is undoubtedly one of the darkest days in the League's recent history."
She said the situation "had been forced upon us" and said that the league "simply cannot allow this unacceptable situation to continue.
She added: "I understand this will be a deeply upsetting and devastating time for Bury's players, staff, supporters and the wider community."
Bury have not played a game this season in League One.
The number of clubs will be reduced to 23, and only three will be relegated.
James Frith, the MP for Bury North, was furious at how Bury had been placed in a situation from which no buyer could proceed.
He said: "I am stunned – angry.
"There are financiers who have no care for the state of football clubs up and down the country."
Speaking on BBC 5Live, he added: "It needs to stand as a turning point for the lower leagues in this country.
"What have we become if a football club so rich in history is consigned to no future because of interest rates that would make a High Street loan shark blush?
"I, for one, commit to the pursuit of parliamentary scrutiny and legislation that rids us of the ills in modern football of people who don't even need to know where the town is of the club that they try to buy."
Damian Collins, the chair of the Digital, Culture, Media and Sport select committee, said that it was "time to look again at why the English football authorities are not doing more to stop clubs getting to the edge of the abyss".
Bury won the FA Cup in 1903, beating Derby County 6-0 at Crystal Palace.