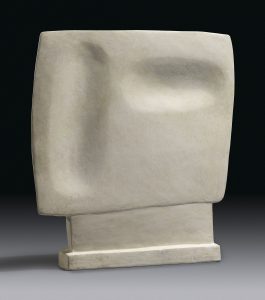 Credit Christie's
A sculpture which was deemed a fake on a BBC programme has been sold for more than £500,000.
The small abstract by Alberto Giacometti failed to convince the experts on "Fake or Fortune".
The work had neither signature nor provenance to convince art dealer Philip Mould and presenter Fiona Bruce that it was genuine.
The couple were also hampered by Giacometti's works being extensively copied.
However, after the show was aired, further examination proved the white plaster work to be authentic.
The key was a signature by Giacometti.
The Swiss sculptor is recognised as one of the great masters of the 20th century.
He's best known for his elongated figures that reduce the human body to its simplest form.
One bronze sold in 2015 for £115 million.
Mr Mould said: "Even though we have quite long lead times, we still work to a television deadline on Fake or Fortune? and the art world does not always observe the same pace.
"This one took longer and more consideration than most.
"But it was worth waiting for."
The plaster sculpture "Gazing Head" belonged to Denis and Fiona Clark Hall.
The programme heard how the piece was knocked off a mantlepiece by the family cat in the 1960s.
The work was repaired with Polyfilla and household paint.
When the DIY repair was scraped away a signature was revealed – "Alberto Giacometti 1928".
Only then did the Giacometti Committee in Paris – the authority who gives judgment on newly-discovered artworks – stamp its authenticity.
But the decision came too late to match the BBC schedule.