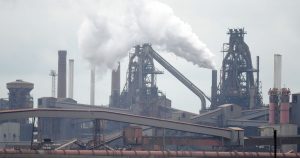 British Steel Scunthorpe
A proposed buyer for British Steel has said the company faces job cuts in an economy drive.
British Steel currently employs around 5,000 workers, of which 3,000 work at the plant in Scunthorpe.
Toker Ozcan, of Turkey's military pension fund warned that productivity was "very low" at the Lincolnshire foundry.
He said: "I am not focused on headcount but on productivity.
He added: the company would "take productivity to where it needs to be."
Several hundred jobs could go if the takeover by Ataer Holding is completed within two months.
Ataer Holding is the investment arm of the fund's mining metallurgy group.
The Official Receiver confirmed that it had received several bids for British Steel, but Ataer Holding was its "preferred buyer" after submitting an "acceptable offer".
British Steel went into liquidation three months ago after rescue talks with the government broke down.
Its collapse could have resulted in thousands of job losses, plus a further 20,000 in the supply chain.
British Steel delivers one third of the UK's overall steel production.