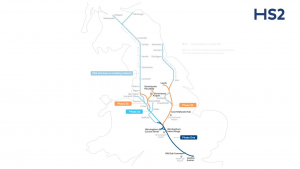 The future of the high-speed rail link HS2 is in doubt after the government today ordered a "rigorous inquiry".
The review will "inform" the next steps for the controversial project.
It will be chaired by former Crossrail and HS2 chairman Douglas Oakervee.
Its deputy is long-term critic of the scheme Lord Berkley.
The report is expected soon -possibly Autumn.
HS2 looks to connect London to Birmingham, followed by further links to Leeds, Manchester, Liverpool, and Sheffield.
Its final leg is Glasgow and Edinburgh.
But opposition has been non-stop since the scheme was announced.
The biggest criticism is damage to the environment and escalating costs.
Already it's feared HS2 could run £30billion over budget.
Transport Secretary Grant Shapps we need to "get the facts on the table".
He added: "What I have said to Doug Oakervee…is just give us the facts.
"Go and find out all the information that's out there, give us exactly where we're up to, really genuinely what it will cost to complete this project and then we'll know and be in a much better position to make that decision, go or no go, by the end of the year."
HS2Ltd