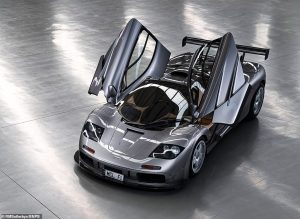 A limited-edition McLaren road car has sold at auction for more than £16 million.
The 1994 F1 LM – standing for Le Mans – was the most expensive car the British manufacturer has ever sold.
The racer has a gold-plated engine bay, an up-graded V12 680 bhp motor, brakes and exhaust.
The F1 won the coveted LM marque after taking the winning flag in the 1995 24 Hours of Le Mans.
Just 106 McLaren F1 road cars were built, but this one is unique.
The silver two door car started out as a standard F1 but was souped-up for Le Mans.
To improve performance the engine bay was gold plated to help dissipate heat from the 6.1 litre engine.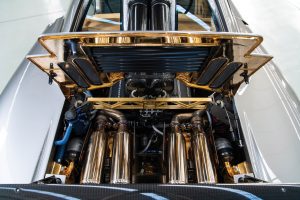 Alexander Weaver, from auctioneer RM Sotheby's, said the F1 was the "ultimate supercar".
He added: "This particular is widely regarded as the most desirable of all specifications.
"No other car stirs more emotions and evokes more excitement.
"The level of ownership exclusivity and 'holy grail' admiration associated with the F1 is second only to the Ferrari 250 GTO."
'It truly is an opportunity not to be missed.'
The F1 LM is the third most expensive British motor ever sold to a highest bidder.
The auction was held in Monterey, California.
The most expensive car was a 1956 Aston Martin DBR1 which sold for £18.4 million in August 2017.
A 1955 Jaguar D-Type fetched £17.9 million a year earlier.