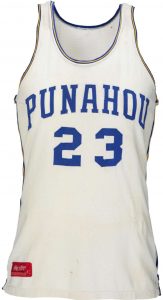 A basketball shirt said to have been worn by former US President Barack Obama at prep school has sold at auction for nearly £100,000.
A collector of American and sport artefacts bought the slip.
The buyer at Heritage Auctions in Dallas, Texas, wished to remain anonymous.
The Rawlings made shirt was offered by Peter Noble. He was three years behind Obama at Punahou School in Honolulu.
Obama wore the number 23 shirt during the 1978-79 basketball season.
Mr Noble, 55, said the shirt had been thrown away when he picked it up.
Years later he saw a photograph of Obama wearing the 23 shirt
Mr Noble, now living in Seattle, has said he'll donate some of his $120,000 auction money to the school.