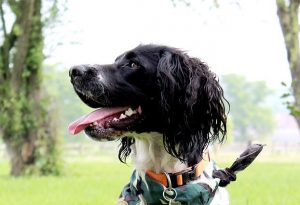 A sniffer dog is being trained to find hedgehogs to help stop their rapidly falling numbers.
The three-year-old Springer Spaniel sniffs out the mammals before builders move in to develop land.
Henry can find a hedgehog hidden more than 250 yards away.
His sense of smell is 100,000 times more acute than a human's.
When Henry locates a hedgehog, he sits next to it and waits for his trainer Linda Wilson to have a look.
Linda said: "He doesn't actually like the odour of the hedgehog, so he doesn't go near the nest."
Henry works with the Conservation K9 Consultancy in Wrexham, North Wales.
They train sniffer dogs for both the detection of wildlife and for conservation purposes.
The project is being overseen by staff at Hartpury University in Gloucester.
If successful, it is hoped other dogs can be trained to aid conservation.
Over the last sixty years Britain's hedgehog numbers have dropped from 30 million to little more than a million.
Much of its natural habitat has been lost through land development.
Janet Peto, founder of Hedgehog Welfare, said: "It's good news that Henry is being used to help save hedgehogs.
"Let's hope the trial is a success and more sniffer dogs are used to help save a much loved mammal.
"Every year we take in hundreds of hedgehogs that have had their nests destroyed."