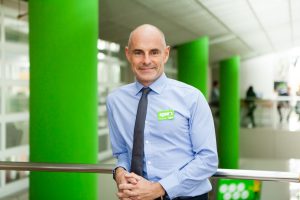 Roger Burnley
Supermarket giant Asda says an uncertain Brexit has hit its sales.
It recorded like-for-like sales rising just 0.5% in its second quarter to the end of June.
This compares with a 1.1% decline in the previous quarter – or a rise of 0.5% adjusted for the late Easter.
Chief executive Roger Burnley said:
"If ever a case study on the impact the mood of the nation has on UK spending habits were needed, this quarter has provided it
"Consumer confidence levels are at an almost six-year low – due in no small part to the ongoing uncertainty around Brexit and amplified by the impact of weather and tracking against national sporting events in the same period last year."
Asda's food business "performed well" and online growth outpaced the market during the period.
However, its non-food business was "challenged".
Asda said its gross profit rate declined, reflecting increased fuel sales with lower margins, soft demand for higher-margin general merchandise and price cuts.
Industry data published last month showed all of Britain's big four grocers – market leader Tesco , Sainsbury's , Asda and Morrisons – saw total sales fall in the 12 weeks to July 14. The dip reflected a heatwave and the men's soccer World Cup a year earlier which boosted demand.