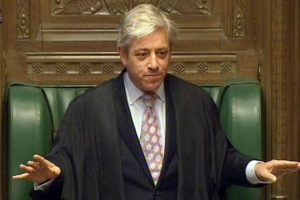 Commons Speaker John Bercow will fight any move by Boris Johnson to shut parliament to force through a No Deal Brexit.
He also claimed that the Commons could stop the UK leaving the EU without a deal by October 31st.
Mr Bercow was speaking for the first time since the new Prime Minister took office.
He said: "The one thing I feel strongly about is that the House of Commons must have its way.
"And if there is an attempt to circumvent, to bypass or – God forbid! – to close down parliament that is anathema to me, and I will fight it with every bone in my body to stop that happening.
"We cannot have a situation in which parliament is shut down – we are a democratic society and parliament will be heard and nobody is going to get away as far as I am concerned with stopping that happening."
MPs are looking to prevent a no deal separation by triggering a vote of no confidence to overthrow Mr Johnson.
The Prime Minister has, however, indicated he might not leave office if he loses the vote.
He's insisting the EU renegotiates the current withdrawal deal, but Brussels has refused to budge an inch.