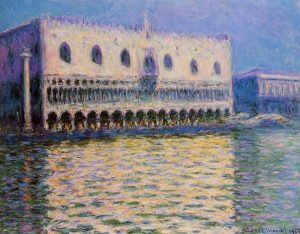 A Monet painting priced at £28 million could leave the UK unless a buyer is found.
Le Palais Ducal by the French impressionist has been granted a temporary export bar by the Arts Minister Rebecca Pow.
It's hoped that a British buyer can be found.
Ms Pow said: "Monet is one of the world's most famous and celebrated artists and his works still resonate more than 100 years on.
"With his trademark ingenuity he managed to capture the changing ways people viewed nature and the world around them at the turn of the century.
"This is a rare and beautiful example of Monet's Venetian studies and I hope that the funds can be raised to keep this treasure in the UK."
Le Palais Ducal was started in 1908 when Monet and his wife Alice visited Venice.
It's believed he finished the picture at his home in Giverny, France three years later.
British galleries have three months to try to raise the £28 million to keep the picture in the UK.
The painting was bought by the textile manufacturer Erich Goeritz in 1925.
He moved to Britain in the 30s and the painting has stayed within the family until auctioned in February 2019 at Sotheby's in London.
It has not been revealed who bought the picture or to which country it could be exported to.