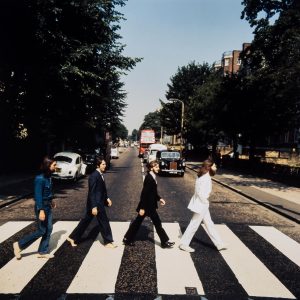 Beatles' fans have made a pilgrimage to the zebra crossing on Abbey Road to celebrate the 50th anniversary of the iconic album cover.
The picture of John Lennon, Paul McCartney, George Harrison and Ringo Starr was taken outside the EMI studios in London on August 8th 1969.
It was used as the front cover for the album of the same name – Abbey Road.
Over the last five decades a multitude of Beatles' fans have recreated the image.
The original picture was taken by Scottish photographer Iain Macmillan.
He was given a ten minutes' slot to take the pictures as a policeman held up traffic.
McCartney selected number five of six shots for the band's 11th studio album.
It was the last time the "fab four" recorded together.
Also, it was the only Beatles' cover to show neither their name nor record title.
A year later The Beatles had broken up.
The EMI Studios were renamed Abbey Road Studios and the zebra crossing was granted grade two status in 2010 for its "cultural and historical importance".