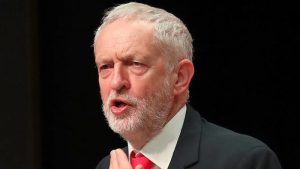 John McDonnell says he'd send Jeremy Corbyn to Buckingham Palace in a taxi to tell the Queen "Labour is taking over" if Boris Johnson loses a vote of no-confidence.
Turning to the Queen to help resolve matters in Parliament would be a drastic last-ditch effort to end the political turmoil.
The Shadow Chancellor, speaking at the Edinburgh Festival, said he was reluctant to "drag the Queen into this" – but he would if necessary.
Prime Minister Mr Johnson has said he might not quit if he lost a vote of no confidence.
As political parties try to form a new government, he could hang on for 14 days, automatically triggering a general election.
It's thought Mr Corbyn will table a no-confidence vote in the Autumn to prevent a No-Deal Brexit.
Parliamentary experts have warned the PM that the Queen is "is not a decorative extra" and may be forced to "dispense with his services herself".
Former Conservative Foreign Secretary Sir Malcolm Rifkind said Mr Johnson could spark "the gravest constitutional crisis since the actions of Charles I led to the Civil War if he refused to respect the normal consequence of losing a confidence vote".