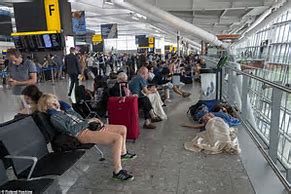 Thousands of holiday makers have been left stranded at airports after an IT gremlin hit British Airways.
Nearly 120 flights have been cancelled at both Heathrow and Gatwick and London City.
And, another 300 flights were delayed, some taking off more than five hours behind schedule.
It's thought 20,000 passengers have been caught up in the mayhem and misery.
Compensation claims could reach an estimated £8 million.
BA confirmed that a technical hitch had affected check-in and flight departures at the three airports.
It was, however, not a global problem IT problem.
A BA spokesman said: "We are working as quickly as possible to resolve a systems issue which has resulted in some short-haul cancellations and delays from London airports.
"A number of flights continue to operate but we are advising customers to check the latest flight information before coming to the airport.
"We are offering customers booked on short-haul services departing from Heathrow, Gatwick and London City today, the opportunity to rebook to another day.
"We are encouraging customers to check ba.com for the latest flight information, and to allow additional time at the airport."
Back-up and manual systems are being deployed to try to cope with the problems.