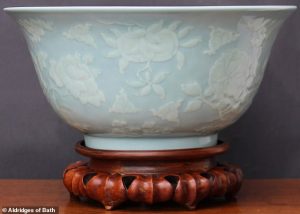 A porcelain bowl that sat on a shelf for years has been sold at auction for £220,000.
Its value was uncovered when a couple were downsizing and contacted an auctioneer.
He discovered the small blue and white ornament was more than 300 years old and from the reign of the Chinese Emperor Yongzheng.
The piece had an auction estimate of £20,000 to £30,000.
But, within minutes of the sale starting, fierce telephone bidding quickly saw it realise its hammer price of £220,000.
Auctioneer Ivan Street, from Aldridges of Bath, said: "I came across this bowl during a routine house-call to a lady who was preparing to down-size. 
"I immediately recognised that it was a fine piece.
"It finally sold to a Chinese buyer after stiff competition from one of London's top dealers in Chinese porcelain."
Chinese Emperor Yongzheng's reigned for only 13 years Few porcelain items come from that period.