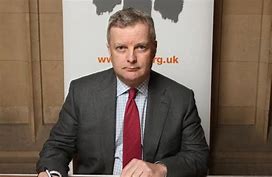 Conservative candidate Chris Davies
Voters are heading to the polls today (Thursday) in the Brecon and Radnorshire by-election that could see Boris Johnson's Common's majority cut to one.
The resurgent Liberal Democrats are expected to take the Welsh seat.
The banana skin by-election came after a successful re-call petition against the sitting Conservative MP Chris Davies.
He'd been convicted of fiddling his expenses.
Despite the re-call, Brexiter Mr Davies, 51, was chosen again by his local party to fight the seat.
The Lib Dem candidate, former social worker Jane Dodds, needs to overturn a Tory
majority of 8,038 – a swing of nearly ten per cent.
Mr Johnson visited Brecon this week as part of his tour to the UK's four nations.