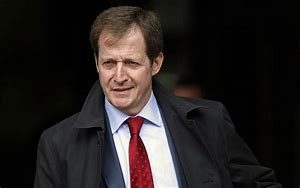 By Philip Braund
Political spin meister Alastair Campbell no longer wants to be part of Jeremy Corbyn's Labour Party.
In an excoriating letter, Tony Blair's former adviser and campaign chief warned Labour would lose the next election against newly installed Prime Minister Boris Johnson.
Campbell, 62, had been expelled from the party after admitting through Twitter he'd voted for the Liberal Democrats in the recent European elections.
Initially, he planned to fight the ban, but in a letter published in the New European newspaper he said it was time to go.
He wrote: "With some sadness but absolute certainty, I have reached the conclusion that I no longer wish to stay in the party, even if I should be successful in my appeal or legal challenge."
He added: "In normal times, with a government having failed so badly for so long to address the challenges of the time, not just Brexit but so much else, the people would look towards the opposition not merely to oppose, but because they see a clear, credible, coherent alternative for government.
"This simply is not happening.
"It is incumbent on everyone in the Labour Party – but especially you as leader – to reflect and take responsibility for what now happens.'
"I see no sign that you and your office have grasped the seriousness of what is happening, let alone devised or begun to execute a strategy to respond and defeat it."
Campbell said the country could be just weeks away from a General Election and that Corbyn was "unlikely to be in a position to win a majority".
He added that Labour's current strategy was "designed to lose" and that Corbyn needed to "step up now" to persuade voters to back Labour.