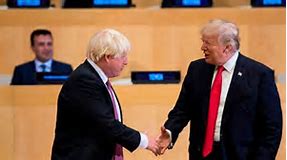 American President Donald Trump and Britain's new Prime Minister Boris Johnson are already working on a "very substantial" post Brexit trade deal.
They've spoken by phone and discussed the "unparalleled" trade options that could arise when the UK leaves the EU.
Mr Trump said a deal could see a "three to four or five times" increase in trans-Atlantic trade.
And, in a side-swipe at the EU, he said the union had previously impeded trade deals between Britain and America.
Speaking in the White House Mr Trump said: "We're working already on a trade agreement.
"And I think it'll be a very substantial trade agreement.
"You know we can do with the UK, we can do three to four times, we were actually impeded by their relationship with the European Union. We were very much impeded on trade.
"And I think we can do three to four or five times what we're doing.
"We don't do the kind of trade we could do with what some people say is Great Britain.
"But with the UK we could do much, much more trade and we expect to do that."
Mr Trump again praised Mr Johnson after his Tory party leadership win and elevation to Number 10.
He said Mr Johnson had "what it takes" to be a great Prime Minister, adding "I think we can have a great relationship".
A Downing Street spokesperson said both leaders had "expressed commitment to delivering an ambitious free trade agreement", adding it was an "unparalleled opportunity".