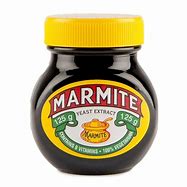 Unilever has warned it may drop some of its iconic brands like Marmite and Pot Noodles if they do not "contribute positively to society".
Chief executive Alan Jope said the British classics could be sold off unless they can "make society or the planet better in a way that lasts for decades".
Although selling the brands might hit Unilever profits Mr Jope said:
"Principles are only principles if they cost you something".
To balance a loss, Unilver's commitment to "trophy sustainable brands" – a golden basket of products that include Dove, Knorr and Sunsilk – has already seen increased market growth.
The company's 28 top earners accounted for than half of Unilever's £45 billion turnover last year.
Ironically, the cool start to the summer saw a slowdown in ice cream sales.
Other much-loved names that might be affected are Bovril, Cornetto and Magnum.
Speaking to investors Mr Jope, 54, said products that don't promote sustainability, or fit with the company's ethics are no longer enough.
Unilever is an Anglo-Dutch company with more than 400 brands behind its name.
It's said nine out of ten homes in the UK has a Unilever product in a kitchen, bathroom or cleaning cupboard.
And, more than 2.5 billion people use daily a Unilever product.
It is one the world's most valuable companies.