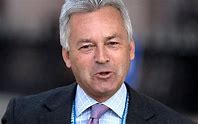 Sir Alan Duncan has resigned as a minister at the Foreign Office.
His decision to quit is the latest taken by key Tories ahead of Boris Johnson's expected victory in the party's leadership race.
A win tomorrow (Tuesday) for Boris puts him into 10 Downing Street.
Sir Alan and Mr Johnson have clashed fiercely over the last few months.
The Remainer minister recently called him a "circus act" after he failed to back UK's ambassador to America Sir Kim Darroch over leaked emails about Donald Trump and his "inept" administration.
Sir Alan's decision comes after Chancellor Philip Hammond said he'll quit on Wednesday so Mr Johnson doesn't have a chance to sack him
The arch Remainer minister revealed he'll hand in his resignation to Theresa May.
Mr Hammond said: "Assuming that Boris Johnson becomes the next prime minister, I understand that his conditions for serving in his government would include accepting a No Deal exit on the October 31, and it's not something that I could ever sign up to.
"It's very important that the prime minister is able to have a chancellor who is closely aligned with him in terms of policy and I therefore intend to resign to Theresa May before she goes to the Palace to tender her own resignation on Wednesday."
Fellow Remainer, Justice Minister David Gauke, has also said he'd resigned rather than serve under Mr Johnson.
It's also reported that six Conservatives may switch their allegiance to the resurgent Liberal Democrats – wiping out a Tory majority in the Commons.