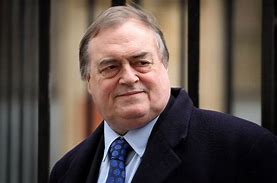 Former Deputy Prime Minister John Prescott is in hospital after having a stroke.
The 81-year-old Labour politician – known as "two Jags" – was taken to the A&E department in Hull on Friday.
He is still in hospital.
His family posted on his Twitter account: "John was taken to hospital last Friday after suffering a stroke".
They also added their thanks to the medical team – ambulance staff, doctors, nurses and the stroke unit – for looking after him in the Royal Infirmary.
They said: "They have been remarkable, and we cannot thank them enough.
"He is receiving excellent care from the NHS, but we would respectfully request at this time that John and our family are given the privacy we need so he can have the time and space to make a full recovery."
Mr Prescott's condition is not known.
Former Prime Minister Tony Blair was one of the first to send his sympathy to Mr Prescott and his family.
He said: "My thoughts are with John, Pauline and all the family. Hoping very much that he gets better soon."
Mr Prescott, a former trade-union activist and merchant seaman, was Prime Minister Blair's deputy from 1997 to 2007.
He resigned within 30 minutes of Blair stepping down.
During his tenure he spent most of his time coming between a warring Blair and his Number 10 successor Gordon Brown.
Prescott earned the soubriquet "two Jags" for his love of cars.
And, his fiery temper sometimes got the better of him.
He famously punched protestor Craig Evans after he'd thrown an egg at him.
Both men were questioned, but neither charged.
Also, he was caught with his pants down in 2006 after admitting a two-year affair with his appointments' secretary Tracey Temple.
A sheepish Mr Prescott admitted: "I did have a relationship with her which I regret. It ended some time ago."
Before joining the Lords in 2010 Prescott was the MP for Hull East for 40 years.