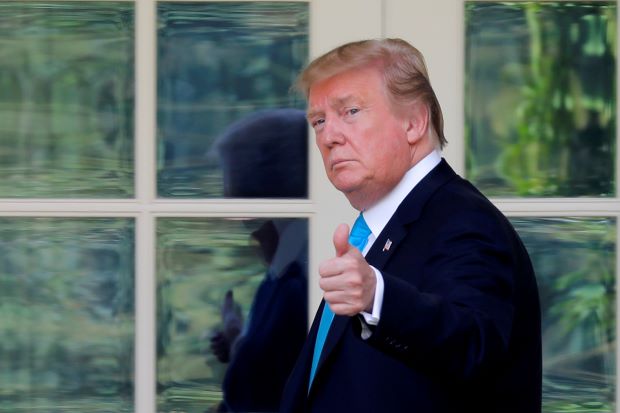 American President Donald Trump flew into London today and straight into controversy.
His state visit is expected to be marred by protesters, angry politicians, and claims he is interfering too much in British politics.
Before Air Force One had even touched down his UK ambassador had stoked up a row, suggesting the NHS should be "on the table" in future trade negotiations.
He added that the UK would have to accept US agricultural products – including chlorinated chicken – if a trade was struck post Brexit.
And some cabinet ministers vying for the Tory leadership – and becoming the country's next Prime Minister – have advocated the UK's deal with Chinese tech titan Huawei could be torn up.
The UK and America are at security loggerheads over the 5G plan.
Apart from the political turmoil of the visit tens of thousands of protesters are expected to take to the streets of London.
They plan to mar a day of pomp and pageantry.
All of this comes as Prime Minister Theresa May formally steps down on Friday.
She has called the visit an opportunity for a "reset moment" on trade.
She said it was "a significant week for the special relationship and an opportunity to further strengthen our already close partnership".
She stressed the need to build closer trading ties.
Before leaving America, Trump endorsed Boris Johnson as the next British prime minister.
It's said that Trump will privately meet Johnson – as well as Brexit leader Nigel Farage.
Also, on the official agenda is a Middle East peace plan. The US hopes the UK might back sanctions against Tehran to reopen the nuclear deal.
Joining Trump on the three-day visit will be his wife Melania and his four adult children.
There is a state banquet tonight at Buckingham Palace with the Queen and Mrs May.
Both the Labour leader Jeremy Corbyn and the Liberal Democrat leader Sir Vince Cable have declined their invitations.
Formal talks will be held on Tuesday in Downing Street, and on Wednesday the party travels to Portsmouth for the 75th anniversary of the D-Day landings.
Protest organisers predict "huge" crowds at its Tuesday demonstration. An estimated 250,000 people protested Trump's last visit.