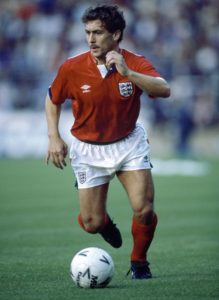 Former England defender Kenny Sansom has been diagnosed with a brain disorder.
He also has a form of dementia, reports his old club Crystal Palace.
Sansom, 62, started his playing career with the Eagles before moving to Arsenal.
He was the team's captain and stayed with the North London club for eight years.
Sansom has been diagnosed with Wernicke-Korsakoff syndrome – a neurological disorder caused by a deficiency of thiamine (vitamin B).
A Crystal Palace statement said:
"Kenny is out of hospital and settled in new accommodation.
"But he has been diagnosed with Wernicke-Korsakoff syndrome, a type of brain disorder and form of dementia.
"He is in the early stages of the illness, which is reversible and treatable.
"With the support of his family and carers, he is on the first steps of his road to recovery.
"Those closest to him are encouraged by his progress and the positive attitude he is showing in difficult circumstances.
"The family would like his and their privacy to be respected."
Sansom played 86 times for England – including marking Maradona during the infamous "hand of God" World Cup game in 1986.