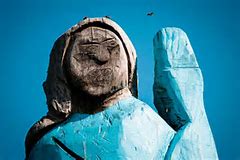 A wooden statue of America's First Lady Melania Trump has been likened to a cartoon character.
The life-size sculpture has been put up in near her home town in Sevnica in Slovenia.
It was crafted with a chain-saw by local artist Ales Zupevc.
The figure is dressed in the same colour blue Mrs Trump wore at her husband Donald's inauguration in January 2017.
But, despite the honour of Melania being local, residents claim the statue is a "disgrace" and looks more like a "Smurf" than the First Lady.
Slovenian Sculptor Zupevec was commissioned by American artist Brad Downey in Kentucky.
Downey's only instruction was the dress had to be the same blue.
Downey later featured the statue on a poster for an exhibition.
He called it "Echo" – a reference to a nymph from Greek mythology.
The poster's wording included: "The topic arose as a reflection and an echo of the obvious question Downey asked himself after visiting Slovenia for the first time.
"How deep are the first lady of the US' roots and how do local people live with and react to this indisputable historical fact?" s.rval=this.ar