Labour has taken the Peterborough by-election by a whisker, beating the newly formed Brexit Party by just 682 votes.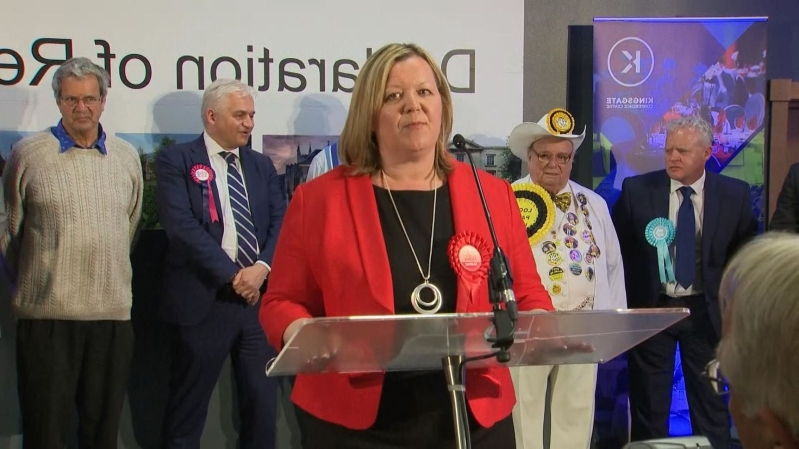 The loss is a blow to Brexit leader Nigel Farage, who was hoping his party would gain a foothold in Parliament.
The bookies had Brexit down as clear favourites, but Labour threw everything at holding onto the seat.
It wheeled out its big-hitters – including shadow chancellor John McDonnell – to boost support.
He said the vote had "punctured the Brexit Party's balloon".
Indeed, Mr Farage left before the count was announced.
Top Tory support was thin on the ground.
Despite it being a key seat to fight for, Prime Minister Theresa May failed to go to Peterborough.
The seat – vacant after Labour MP Fiona Onasanya was kicked out after a recall petition – was won by Unite activist Lisa Forbes with 10,484 votes, a fall of 17.2%.
Brexit's Mike Greene was close behind with 9,801 votes.
The Conservatives came trailing in third place with 7,243 votes – down 25% on the last election.
Local party officials blamed the dramatic slump on Theresa May not delivering Brexit on time.
The constituency voted to leave the EU by 61% in the 2016 referendum.
Labour leader Jeremy Corbyn said: ""Peterborough has shown clear support for Labour's programme to end austerity and invest in services and communities, rejecting a decade of Tory cuts and their disastrous handling of Brexit.
"In this key seat, the Conservatives have been pushed to the margins."
However, critics point out the party's vote share was down more than 17 percentage points from the snap 2017 General Election.
A disappointed but unbowed Brexit party tweeted: ""If we can come so close in our 201st target seat, no seat is safe."
Stewart Jackson, the former Conservative MP for the city, said local candidate Paul Bristow had done well "given the circumstances".
He added: "For a by-election candidate he had one of the worst inheritances of any candidate since the war.
"There's been no leader, and the Brexit policy is a shambles. He did pretty well to poll 22 percent."
The Peterborough seat became vacant after Fiona Onasanya was jailed for perverting the course of justice after lying about a speeding offence.
The Tory defeat in a seat they'd held in better times was a disappointing parting gift as Mrs May steps down today as Prime Minister.
During her three years in Downing Street she cost 33 MPs their seats in what many regard as a foolish decision to call a snap election – blowing a 20 point poll lead.
Although Brexit lost Peterborough by a sliver the party has nearly 3,000 prospective MPs willing to fight a general election.
It will hold a manifesto brainstorming in Birmingham at the end of this month as it prepares to fight a 2022 general election.
Brexit has already vetted 200 hopefuls should a snap election be called.
Meanwhile, a poll has shown that Boris Johnson is the best placed Tory to defeat Mr Corbyn at the next election.
The poll – by the political strategy group CTF Partners – reveals six in 10 voters who back Brexit or UKIP would vote Conservative if Mr Johnson was Prime Minister.