Libya has asked for international help with around 2,000 people feared dead after a massive flood ripped through the city of Derna following a powerful storm.
Mediterranean Storm Daniel has caused catastrophic flooding, resulting in the complete engulfing of entire neighbourhoods after it hit the country's eastern region.
On Monday night, Libya's government declared the eastern Cyrenaica province as a disaster area.
Earlier, the head of the Red Crescent aid group in the region claimed the number of confirmed dead was 150, with that figure expected to rise to 250.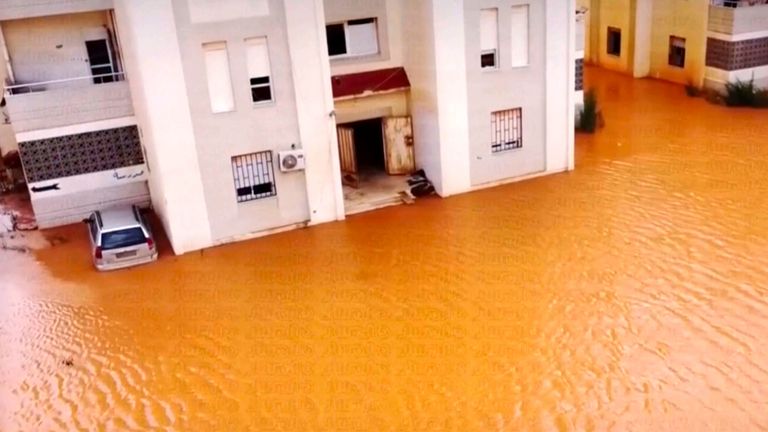 In a phone interview with al Masar television station Monday, Prime Minister Ossama Hamad of the east Libyan government said that 2,000 were feared dead in Derna, and thousands were believed missing.
Ahmed al Mismari, the spokesperson for the Libyan National Army (LNA) that controls eastern Libya, said the disaster came after dams above Derna collapsed, "sweeping whole neighbourhoods with their residents into the sea".
He said the number of those who had died was over 2,000 and estimated the number of missing individuals to be between 5,000 and 6,000.
Libya remains politically divided between its eastern and western regions, and the public services have deteriorated since the 2011 NATO-backed uprising, which triggered years of ongoing conflict.
The internationally recognised government in Tripoli does not exercise control over the eastern territories.
Many of the thousands who are currently unaccounted for are believed to have been swept away by the floodwater.
Videos shared by residents online revealed the extent of the devastation, with entire residential areas obliterated along a river that traverses the city centre, originating from the mountains.
Multi-storey apartment buildings which were situated a considerable distance from the river were partially collapsed in the mud.
During a phone interview with al-Masar television station on Monday, Prime Minister Ossama Hamad of the eastern Libyan government expressed fears of the number of dead reaching 2,000 in Derna, along with thousands of individuals still missing. As a result, Derna has been officially declared a disaster zone.
Ahmed al-Mosmari, spokesperson for the country's armed forces based in the east, announced during a news conference that the number of people dead in Derna had exceeded 2,000. He attributed the catastrophic event to the collapse of two nearby dams, leading to a deadly flash flood.