The southern Chinese city of Zunyi is awash with signs the nation's economy is not in good health.
Everywhere you look there are unfinished infrastructure projects; empty apartments, half-constructed tunnels, huge projects where, it seems, the money just ran out.
It is a symbol of a system that is stuttering.
The mighty Chinese economy, that once delivered seemingly miraculous growth of some 10% plus a year, is slowing.
Cracks, driven by structural weaknesses that were once easy to pave over, have started to appear.
The economic model of driving up GDP with vast borrowing and building worked when China was poor and needed new roads, bridges and airports, but it is no longer sustainable in a modern China that now finds itself drowning in debt and with nothing left to build.
There are big questions about what happens next.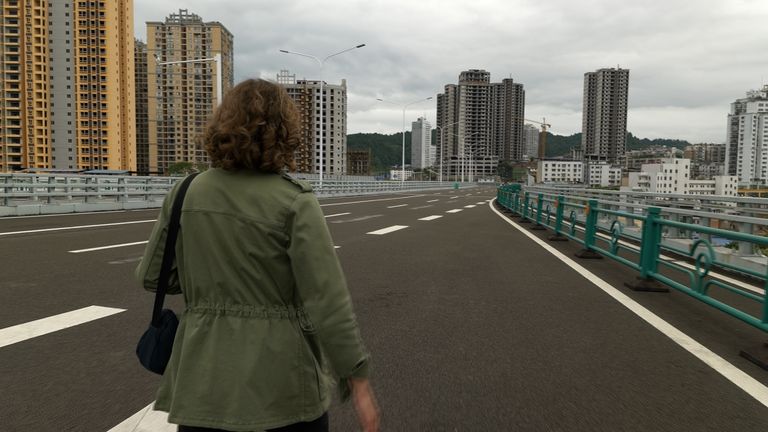 In Zunyi, one road in particular speaks volumes about the troubles now plaguing parts of the system.
Snaking over parts of the city, the Fengxin Expressway is a multilane highway that cost 4bn yuan to build, but sections now lie incomplete and abandoned.
On one side, a handful of cars occasionally drive by, the other is completely empty save for a few locals who now use it to take a stroll or walk their dogs.
There is something almost eerie about walking along it – a sense that the area has been somewhat forgotten.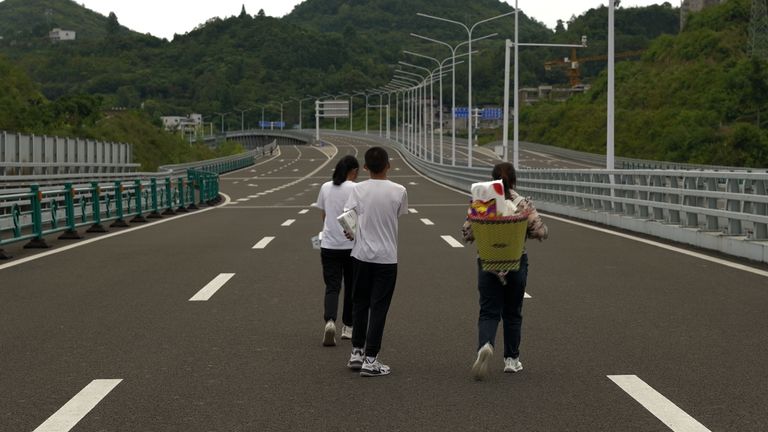 A local woman, Mrs Chen, tells us the bridge has been like this for ten years.
"A lot of land was taken, many people had to move away," she says.
"Why has the construction just stopped?" she asks, "This is a government fund, I think they didn't use the money for anything. I think it's been wasted."
Read more:
China suffers deflation
How will Chinese slowdown affect the UK?
Chinese authorities attempt to revive flagging economy
When we asked local authorities, the Ministry of Foreign Affairs Zunyi branch said the expressway was completed on 31 August 2023 (just two days after we visited) and is scheduled to be put in use the first half of September.
They added the local government "actively encourages and guides construction companies and developers to move forward with construction in an orderly fashion," and that the government "strictly follows national and provincial rules and regulations on investment and management".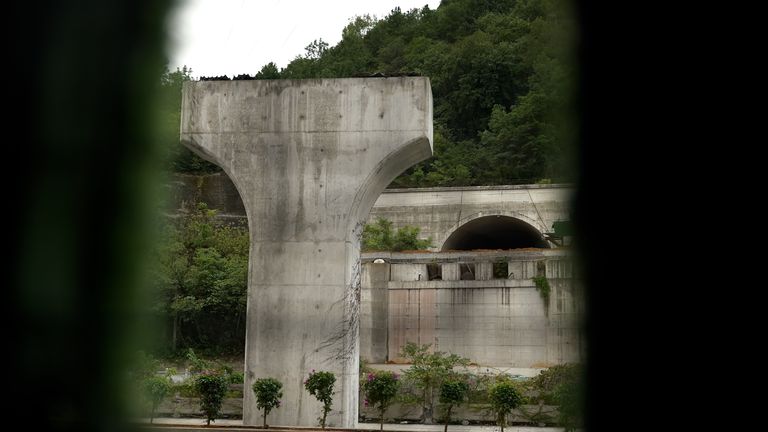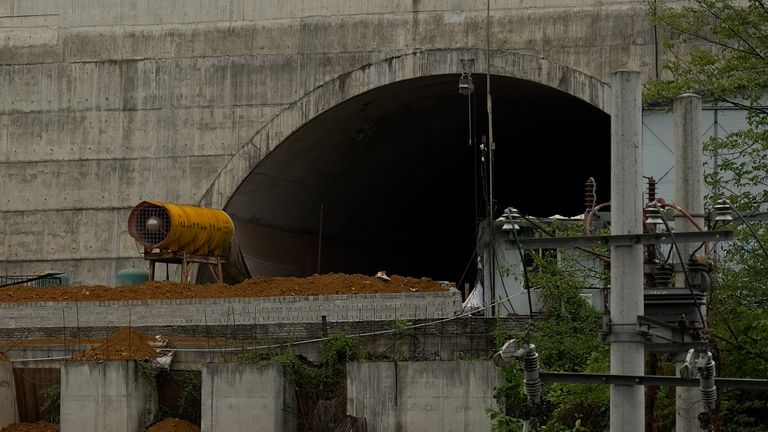 On the other side of a small hill, I find the connecting tunnel, where the project has come to an abrupt stop.
Opposite the entrance of the tunnel are huge concrete pillars where construction was clearly meant to continue and beyond that, blocks of homes vacated and marked for demolition – lives moved on to make space.
There are just a few residents who have hung on here, including Shi Chunli who has lived here for 40 years.
She claims to have given the authorities her property in exchange for a new apartment elsewhere.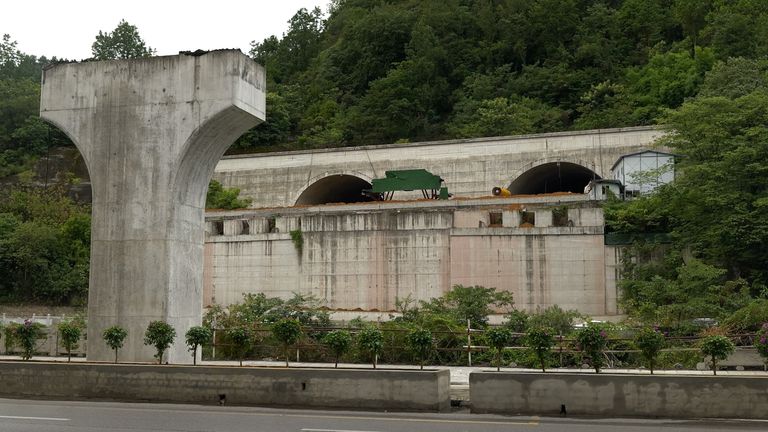 "They said we would have a new apartment in three years" she says, "it will be the fifth year this September, but everything is still the same."
And she has a pretty clear idea as to why her life is in this limbo.
"It's mainly that there is no money. The state does not have any money left."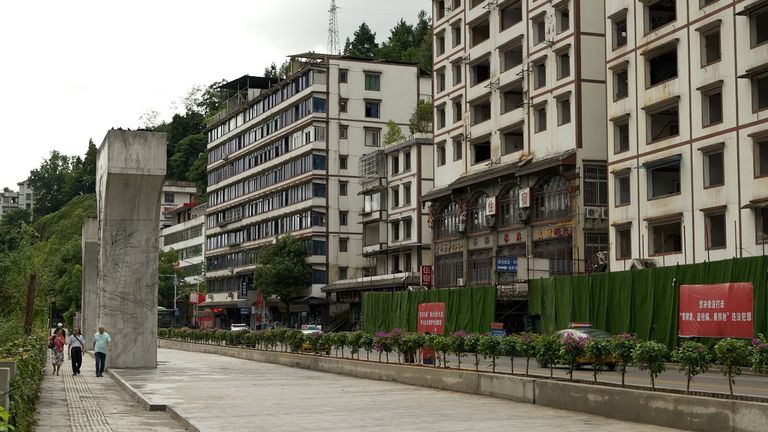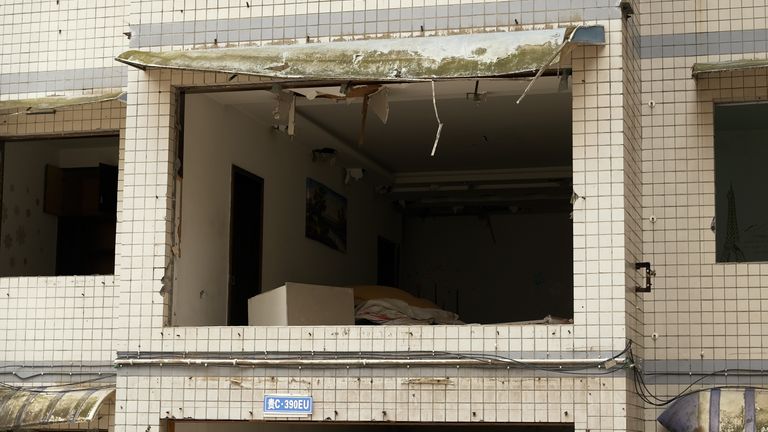 There are projects like this across China, but there is a particularly high concentration in Guizhou province, where Zunyi is located.
In fact, Guizhou province, one of the poorest in the country, is also the most indebted with its debt pile over 135% of its GDP.
This rural province leaned heavily into the Chinese growth model that for so long delivered such remarkable numbers: huge borrowing, massive investment and vast building – regardless of whether the projects were needed.
Indeed, Guizhou has 11 airports, many quite close to each other, and nearly half of the world's 100 tallest bridges, according to state media outlet Economic Daily.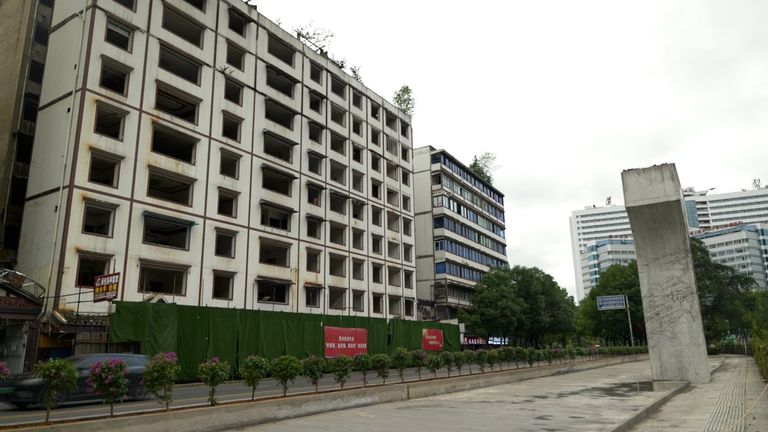 It is a model that has been replicated throughout the country. Investment has made up an average of 44% of China's economy in recent years, for which experts say there is "no remotely comparable historical precedent".
But while this model made sense when China was playing catch up, it has now become a major liability.
The government has few places to turn to deliver the high growth it has become accustomed to.
But this is a problem the government cannot 'invest' its way out of, as it has in the face of previous economic challenges.
As many experts will point out, this level of unproductive investment has been a symptom of the Chinese economy for many years, so why is it biting now?
It is largely because other parts of the economy are struggling – exposing the fault lines at its core.
Last month, prices in China actually fell when compared to the same month last year, raising fears of more long-term deflation.
The key issue is that consumer demand simply hasn't bounced back post-pandemic as China's leaders hoped it would.
Months of zero-COVID rules that saw whole cities plunged into sudden extreme lockdowns destroyed thousands of businesses and vastly depleted family savings.
The net result is that people just don't have the money to spend, and what they do have they are reluctant to part with (China's saving rate is one of the highest in the world according to the IMF).
These trends were clear in some of the smaller markets around Zunyi.
"Business is bad now," one stall holder told us, "it's getting worse year after year."
And why?
"The pandemic," she says, "the impact of the pandemic is too big."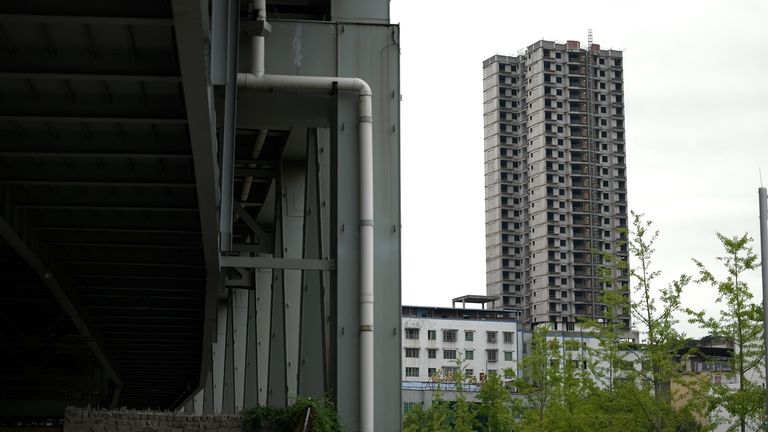 There are other issues too, highly interventionist government policy that cracked down on certain industries like tech and private tutoring have left certain sectors crippled and foreign investment nervous.
And in this environment millions of young people are struggling to find work; the number of 16-year-olds out of work in June was a record 21.3%.
The government has since stopped publishing these figures, but experts fear the true number may be much higher.
But perhaps most threatening of all is the deep crisis in the housing market.
In a similar way to local government spending on infrastructure, Chinese developers have spent years borrowing huge sums to build millions of apartments, often pre-selling them to buyers before construction was complete.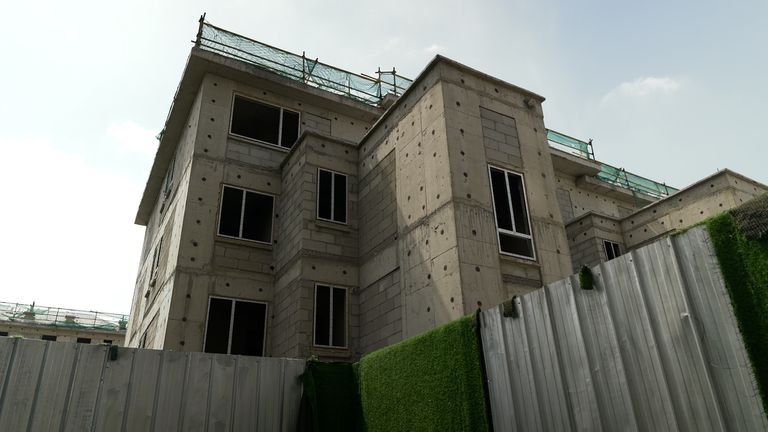 Following moves by the central government in 2021 to try and curb this excessive borrowing, many found themselves unable to afford their debt payments and some like Evergrande, once one of China's biggest developers, defaulted.
It plunged the market into a crisis which it has struggled to recover from, leaving many buyers with unfinished homes and many others unwilling to invest in property.
Prices have fallen and there have been huge knock-on impacts on industries that service construction.
This month, the spotlight has been on Country Garden, another Chinese developer, once considered a safe pair of hands, as it too struggled to make a scheduled bond payment.
Shares in the firm have rallied, however, following reports it has agreed a deal with creditors to make the payments in instalments over the next three years.
There are fears about how all this will play out and whether it will affect the rest of the world.
With the Chinese economy facing increasing global scrutiny, President Xi Jinping has surprised commentators by signalling he will not attend this weekend's G20 summit in India. Premier Li Qiang will attend instead.
But experts insist there almost certainly won't be a major financial crash.
"It's very unlikely because the financial breakdown is really a balance sheet breakdown," explains Michael Pettis, a renowned expert on the Chinese economy and professor at Peking University.
"In China, the regulators are so powerful, and they can restructure liabilities at will, so that you will never have a balance sheet breakdown.
"Over the long-term, that's a bad thing because it means that the necessary adjustment is much slower than otherwise. But from a social and political point of view, that's a good thing, particularly over the short-term."
What is most likely, he and other experts insist, is that China sees a more prolonged period of slow down and re-adjustment in its economy akin to what happened to Japan from the 1990s onwards.
There will, however, likely be some pain to come for ordinary Chinese people as this slow but ultimately necessary process plays itself out.