Wagner boss Yevgeny Prigozhin was on board a plane that crashed north of Moscow killing all 10 passengers on board, Russia's Civil Aviation Authority has said.
There has been no comment from the Kremlin or Russia's defence ministry as Prigozhin's death is yet to be officially confirmed.
The crash comes two months after the Wagner mercenary boss led a short-lived munity against Russia's military top brass.
He was described at the time by Russian President Vladimir Putin as a "traitor".
The fact Prigozhin's death has not been confirmed and an absence of verifiable facts has led to speculation following the crash.
Ukrainian drones raining down on Russian soil – live war updates
Some of the Wagner boss's supporters have blamed the Russian state, while others have pointed the finger at Ukraine which is marking its Independence Day today.
Rosaviatsia, Russia's aviation agency, published the names of all 10 people on board the downed plane.
This included Prigozhin and his deputy Dmitry Utkin who helped found the Wagner mercenary group.
The Investigative Committee of Russia has said it is looking into the crash which happened while the plane was travelling from Moscow to St Petersburg.
The committee has confirmed in a statement that 10 people were killed and a criminal case has been opened – but there was no mention of Prigozhin.
A Reuters reporter at the crash site has seen men carrying black body bags away from the scene on a stretcher.
Part of the plane's tail and other fragments lay on the ground near a wooded area where forensic investigators had erected a tent.
Grey Zone, a Telegram channel linked to Wagner, has pronounced their leader dead.
The group also hailed Prigozhin as a hero and a patriot who had died at the hands of unidentified people it called "traitors to Russia".
Read more:
Putin's revenge was a dish best served cold
What we know about the crash
Mourners left flowers and lit candles near Wagner's offices in St Petersburg early on Thursday.
Some unnamed sources told Russian media they believed the plane had been shot down by one or more surface-to-air missiles.
Whoever or whatever was behind the crash, Prigozhin's death would rid Mr Putin of someone who had mounted the most serious challenge to the Russian leader's authority since he came to power in 1999.
Others who have opposed Mr Putin or his interests have also died under unclear circumstances or come close to death, including outspoken political leaders and journalists.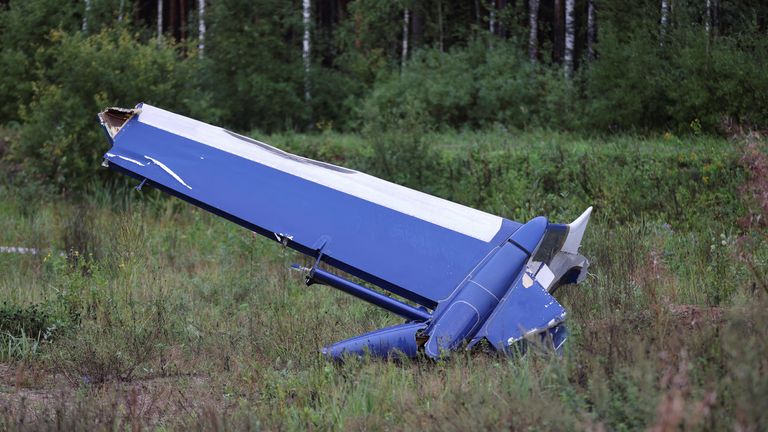 The Kremlin has always denied any state involvement in such incidents.
Abbas Gallyamov, a former Putin speech writer turned critic whom the Russian authorities have branded a "foreign agent", suggested, without evidence, that the Russian leader, who is expected to run for another term in office next year, was behind the crash and had strengthened his authority in the process.
"The establishment is now convinced that it will not be possible to oppose Putin," Gallyamov wrote on Telegram. "Putin
is strong enough and capable of revenge."
The plane that crashed, a Brazilian Embraer Legacy 600 model, has only recorded one accident in over 20 years of service, according to website International Aviation HQ, and it was not due to mechanical failure.
Embraer said it has complied with international sanctions imposed on Russia and had not provided maintenance for the
aircraft since 2019.
The plane showed no sign of a problem until a precipitous drop in its final 30 seconds, according to flight-tracking data.
Prigozhin was last seen in a video on Monday that appeared to have been shot in Africa, where he spoke about making the continent "free".
The Wagner Group boss released footage of himself speaking while wearing camouflage and holding a rifle.