Soldiers from 11 West African nations are "ready" to be sent into coup-hit Niger to restore ousted president Mohamed Bazoum, officials have said.
It comes after leaders of the countries agreed to commit troops for a military operation in Niger, led by the Economic Community of West African States (ECOWAS).
"We are ready to go anytime the order is given," the ECOWAS commissioner for peace and security, Abdel-Fatau Musah, said in Ghana's capital, Accra, on Friday.
"Our troops are ready to respond to the call of duty of the region."
However, he did not give details of when the operation could be launched.
Instead, he suggested that an ECOWAS delegation could visit the country over the weekend in order to hold talks with Niger's coup leaders.
"We can stand down the military option," he said.
"It [military intervention] is not our preferred option – but we are obliged to do it because of the intransigence of the regime and the obstacles they've been putting in the way of a negotiated settlement."
Read more:
Russia will look on Niger coup 'very favourably'
Niger's ousted president says he is a 'hostage'
Niger is currently suspended from ECOWAS following last month's coup. Three other countries under military leadership, Guinea, Burkina Faso, and Mali, are also suspended from the bloc.
The latter two have warned they will consider any military intervention in Niger by the bloc as an act of war.
The 11 countries that have committed troops make up the active members of ECOWAS, including Nigeria, Senegal, and Ghana.
ECOWAS has previously threatened military intervention unless coup leaders reinstate democratically elected President Bazoum – who was overthrown by members of the presidential guard on 26 July.
He has been under house arrest ever since.
Earlier this month, coup leaders vowed to prosecute deposed President Bazoum for "high treason" and undermining state security.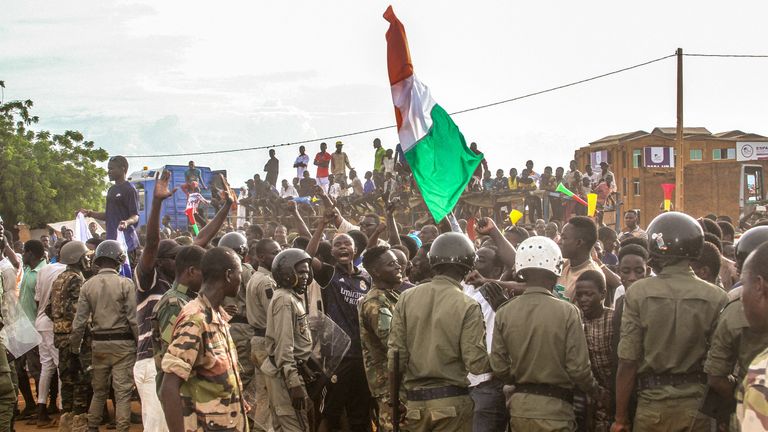 If found guilty, President Bazoum could face the death penalty, according to Niger's penal code.
The new ruling junta has been hit by sanctions that have pushed up food prices up by 60% and resulted in 10-hour-long electricity cuts.
But the soldiers recently doubled down and announced a 21-member cabinet to govern the country.