At least 72 people have died in India's Himalayan region after days of torrential rain triggered landslides and flash floods.
Video from the area shows buildings collapsing during a massive landslide in Shimla, a city in the northern Indian state of Himachal Pradesh.
Rescuers in the mountainous state – in the foothills of the Himalayas – have been working through challenging weather conditions to save people trapped under mud and debris.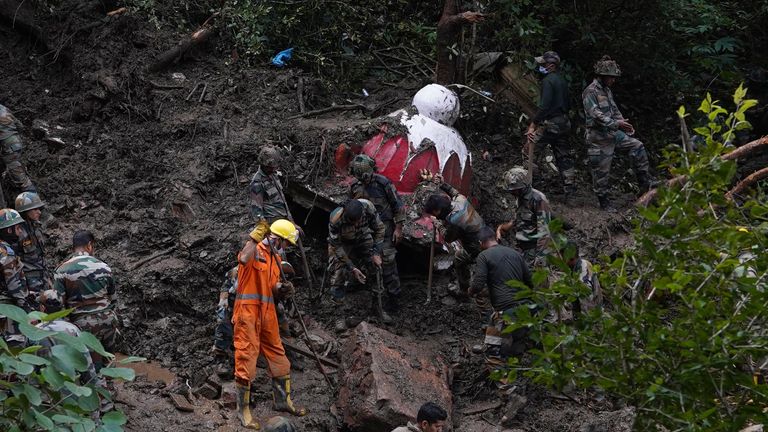 It comes after torrential rains struck over the weekend – flooding more than 700 roads, washing away homes and leaving people trapped under piles of debris.
The state's chief minister, Sukhvinder Singh Sukhu, said over 2,000 people have been rescued using helicopters and motorboats so far.
Hundreds of roads remain blocked and schools in Shimla – the state capital – have been ordered to shut.
A cloudburst – a weather event common in the Himalayan region where an extreme amount of precipitation falls in a short period of time – killed nine people in the Solan area on Sunday night, authorities told the Press Trust of India news agency.
Read more from Sky News:
Beijing flooding kills at least 33 after Typhoon Doksuri
£1.8bn aid package for flood-hit areas in northern Italy
A further 12 people died following two landslides in Shimla, while four others were killed in heavy rain and a landslide in the state's Hamirpur district, they added.
On Thursday, officials raised the total number of dead to 72.
India's weather department has put the state of Himachal Pradesh on high alert and expects the downpours to continue over the next few days.
Disasters caused by landslides and floods are common in India's Himalayan north during the June-September monsoon season.
Scientists say they are becoming more frequent as global warming contributes to the melting of glaciers there.
Last year, flash floods killed nearly 200 people and washed away houses in Uttarakhand.