"In Sarina we trust" is a phrase rapidly growing in popularity around England's Lionesses.
The catchy mantra, often used by football fans on social media, even made it into one pundit's post-match analysis in the aftermath of Wednesday's historic semi-final win against hosts Australia.
On Sunday, England fans will have to place their trust in Sarina Wiegman once more, in the hope she can guide the Lionesses to victory against Spain in their first ever Women's World Cup final.
But fans should have plenty of reasons to trust in the England manager – described by her own players as a "genius".
For starters, the Dutch mastermind is a proven winner both on the pitch and in the dugout, with two UEFA Women's Euro titles already to her name, including one with the Lionesses.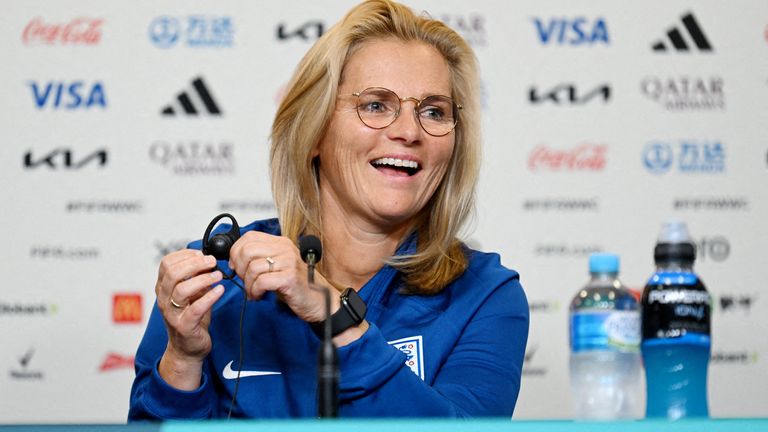 The 53-year-old also has experience of a Women's World Cup final with her home country of the Netherlands – though tasted defeat to a formidable USA side in the last tournament in 2019.
Wiegman will be aiming to right those wrongs and lift international football's most prized trophy with the Lionesses on Sunday.
'I used to pretend I was a boy'
If she does, it will be a culmination of years of hard work for Wiegman, who first fell in love with the sport as a young girl while playing football on the streets of her home town, The Hague.
"I loved sports, so I did so many different sports, but it was always football," she told The Guardian earlier this year.
"As a little girl, when I was five or six years old, girls were not allowed to play football, but I just liked football and my parents never made any fuss."
In fact, Wiegman said she played "illegally" by disguising herself as a boy.
Wiegman: 'Everyone is welcome in the game'

"When I started playing football as a six-year-old girl we weren't allowed to play, so I played illegally," she told BBC Radio 5 Live earlier this year.
"I had very short hair, looked a little bit maybe like a boy, and I had a twin brother, so we just started to play and everyone said 'that's okay'."
A star on and off the pitch
Despite the lack of facilities for young girls at the time, Wiegman's talent did not go unnoticed.
Aged 17 she picked up her first cap for the Netherlands – the first of her 104 appearances for her country – and gained an invitation to study at the University of North Carolina, where she played alongside future US stars such as Mia Hamm.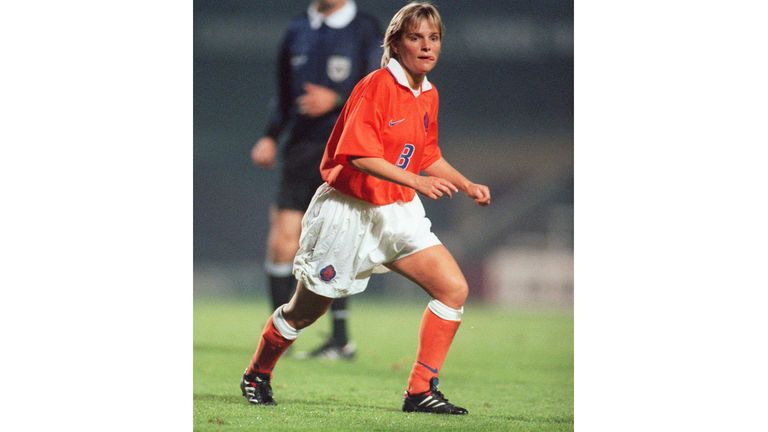 After a year in the US, Wiegman returned to the Netherlands, where she worked as a PE teacher while playing for club side Ter Leede, with whom she won two Dutch championships and a cup.
Former teammate, Jeanet van der Laan, who played alongside Wiegman at Ter Leede, described her as a "real winner".
Speaking to the Sky News Daily podcast, she said: "[Football] is her passion.
"She's an open and transparent person – but she expects something. She expects the best all the time. But I think it goes well together."
After hanging up her boots in 2003, Wiegman became Ter Leede's manager in 2006 and claimed her first honours from the dugout the following year, winning the Dutch championship and cup.
She joined ADO Den Haag in 2007 at the formation of the Women's Eredivisie – a title she would win as a manger in 2012.
The international scene beckoned for Wiegman, who joined the Dutch women's team in 2014 as an assistant coach, before becoming the manager in 2016.
Read more:
Equal pay for England's Lionesses 'long-term goal'
Lionesses don't want to leave Australia without biggest prize
Within six months, she had transformed a team with four defeats in five friendlies to the Women's Euro 2017 champions.
Her side nearly clinched the 2019 Women's World Cup two years later, but lost in the final to a USA side widely regarded as one of the greatest in the history of the women's game.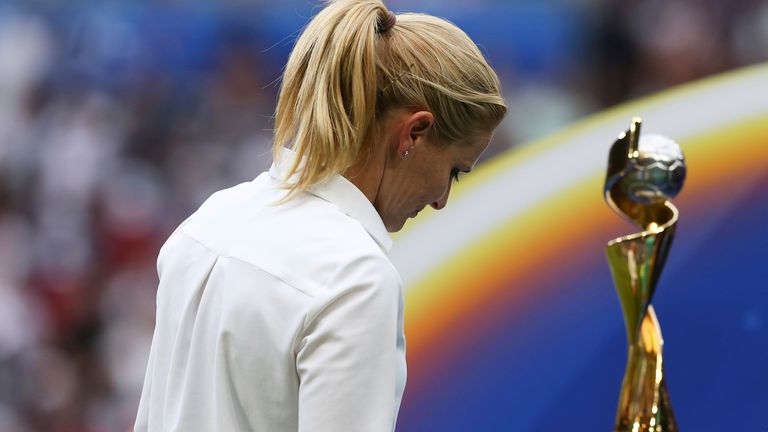 London's calling
In August 2020, Wiegman was appointed as the new boss of the Lionesses – becoming the first non-British permanent manager of the team – but could not start until September 2021.
She was an instant success, starting with an 8-0 victory against Macedonia and, five games later, an eye-catching 20-0 win over Latvia – the biggest win in England's history.
That success, however, would pale in comparison to last summer's UEFA Women's Euro 2022 win at Wembley – the first trophy by a senior England side since the men's World Cup win of 1966.
It was a historic moment, both on and off that pitch, and one that was not lost on Wiegman.
"The world around us will be changed. It's positive, but we have to be aware of it too. But we've changed society. That's what we want," she said in a post-match news conference.
Personal honours followed for Wiegman, who collected UEFA's Women's Coach of the Year award for 2021-22 and FIFA Women's Coach for 2022.
She also picked up an honorary CBE for services to football.
'A phenomenal coach and a genius'
While winning trophies and awards, Wiegman has also won hearts and minds inside her dressing room, with a number of Lionesses praising her style and management skills.
Russo: 'Sarina Wiegman is a winner'

England goalkeeper Mary Earps said her "life changed" after the arrival of Wiegman, while forward Rachel Daly earlier this year described Wiegman as a "genius".
Kay Cossington, women's technical director at the FA, who herself has been key in the development of the Lionesses, described Wiegman as a "pleasure to work with".
"She's outstanding. She's a hard worker, she's a winner, as we've all seen, and she's just a great person to be around," she said.
Lionesses celebrate in dressing room

"I think it's the culture that she creates. I think it's the clarity and consistency in which she operates.
"I think it's the clear, consistent play in style and a tactical sophistication throughout tournaments that she's able to adapt.
"But also she's able to bring a really great team of back-up staff and support staff on the journey to help her succeed. And that's testimony to her and the character that she is."
For Alessia Russo, a standout star at both this tournament and Euro 2022, the key to Wiegman's success with the Lionesses is back to that all important word – trust.
On Sunday, however, it will be the fans England fans who will be putting their trust in Wiegman, hoping that she can mastermind another historic win – one that will finally end nearly 60 years of World Cup hurt.