A huge wildfire in the south of France is under control after it forced thousands of residents and holidaymakers to flee their homes and campsites.
The fire broke out on Monday afternoon between Saint-Andre, near the Spanish border, and the seaside resort of Argeles-sur-Mer on the Mediterranean coast.
The area is said to be popular with British holidaymakers.
More than 3,000 people had to be evacuated from the area as 650 firefighters tackled the blaze, French news service BFM TV reports.
Several firefighters were injured, including one seriously, according to France's interior minister Gerald Darmanin.
The seriously injured firefighter reportedly hurt himself after falling out of a truck and onto his back.
Mr Darmanin has said there were no other casualties.
Two housing estates and four campsites are said to have been evacuated, with seven sites used to accommodate those who had to flee.
The occupants of three of the four campsites have reportedly been able to return to their accommodation.
At one stage more than 300 holidaymakers were based in a gymnasium as they waited to return to where they had been staying, according to the AFP news agency.
The fire is also reported to have affected 30 homes with eight of them severely burned.
Meanwhile, a warehouse and one of the campsites are said to have been "heavily impacted".
Read more on Sky News:
Australian tourist saves group after two days at sea
Human trafficker jumps out of car during police chase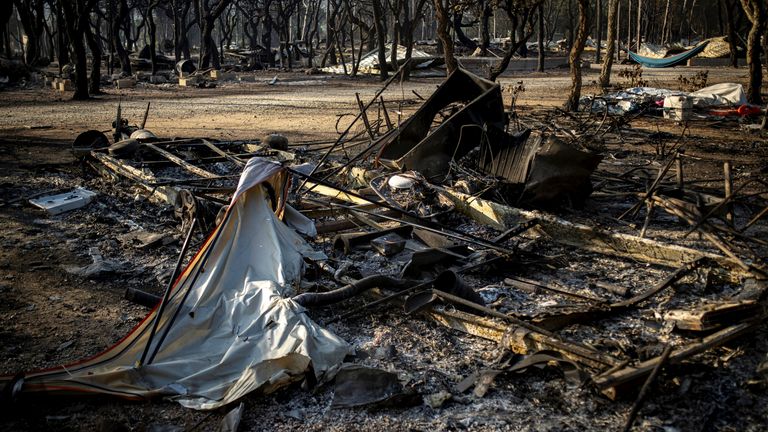 Samuel Moli, the mayor of Saint-Andre, described the situation as "catastrophic" on Monday evening.
He said on the France Bleu Roussillon radio network: "We are facing a fire like we have never seen.
"Our town is hard hit, and there is a lot of damage."
Laetitia Richard, who had to flee the Chenes Rouges campsite in Argeles sur Mer, said it was ravaged by flames.
She told BFM TV: "We were coming back from a walk and we saw the smoke. We said to ourselves, 'it's not possible!'
"Last year already, we were in Gironde, but 30km from the fire. This time it was very close."
Stephanie Bodinier, 49, who is in Argeles-sur-Mer with her husband and daughter, said: "We were in the pool and we saw smoke and ashes. When I saw the planes, we took our things."