An investigation has been launched into claims climbers left a porter to die near the peak of the world's most treacherous mountain, a mountaineer has said.
Dozens of climbers are alleged to have walked past the Pakistani helper in their eagerness to reach the summit of K2 after he was gravely injured in a fall.
The accusations surrounding the events on 27 July on the world's second-highest peak overshadowed a record-breaking climb by Norwegian mountaineer Kristin Harila and her Nepalese guide Tenjen (Lama) Sherpa. They became the fastest climbers to scale the world's 14 highest mountains, which took 92 days.
She has rejected any responsibility for the death of the porter, Mohammed Hassan, a 27-year-old father of three who slipped and fell off a narrow trail in a particularly dangerous area of the mountain known as the bottleneck.
She was defending herself against allegations made by two other climbers who were on K2 that day, Austrian Wilhelm Steindl and German Philip Flaemig, who had aborted their climb because of adverse weather conditions but said they reconstructed events later by reviewing drone footage.
The footage appeared to show dozens of climbers passing a gravely injured Mr Hassan instead of coming to his rescue.
Mr Steindl alleged the porter could have been saved if the other climbers, including Ms Harila and her team, had given up their attempt to reach the summit.
"There is a double standard here. If I or any other Westerner had been lying there, everything would have been done to save them," Mr Steindl told the Associated Press. "Everyone would have had to turn back to bring the injured person back down to the valley."
Why was mountain porter left to die?

Harila says her team 'tried for hours' to save man
However, speaking to Sky News on Friday Ms Harila said her team "tried for hours to save" Mr Hassan – and one team member even took off his oxygen mask and gave it to him because he did not have his own.
She said Mr Hassan had been dangling from a rope upside down after his fall at the bottleneck, which she described as "probably the most dangerous part of K2".
She said after around an hour her team were able to bring Mr Hassan back onto the trail.
The group then decided to split, she said, with her and Lama continuing to the top of the mountain because her forward fixing team had run into their own difficulties.
Read more:
Body of climber missing since 1986 discovered on melting Swiss glacier
Sherpa guides rescue freezing climber from Everest 'death zone'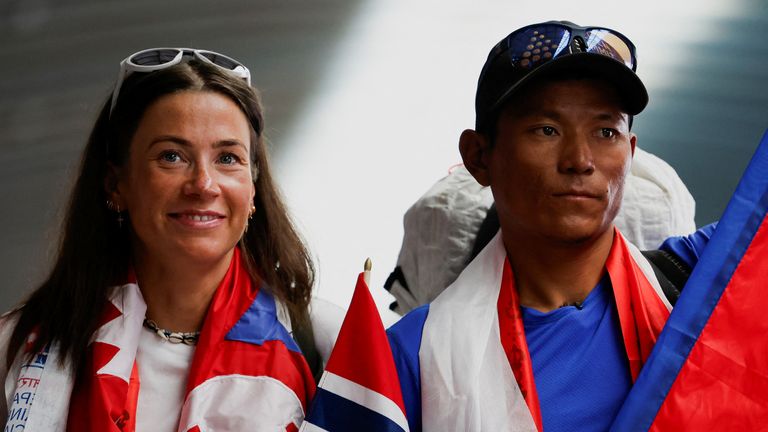 Porter apparently lacked equipment
Asked about Mr Hassan's gear, Ms Harila said he was not wearing a down suit and did not have gloves, nor did he have oxygen. "We didn't see any sign of either a mask or oxygen tank," she said.
After reaching the top, Ms Harila filmed an "emotional" video celebrating their record-breaking climb.
She said she only discovered Mr Hassan had died as she climbed down the mountain, and said she and her team were unable to recover his body because it was "impossible to safely carry him down".
Investigation launched into death
An investigation has been launched into Mr Hassan's death, according to Karrar Haidri, the secretary of the Pakistan Alpine Club, a sports organisation that also serves as the governing body for mountaineering in Pakistan.
Anwar Syed, the head of the company handling Ms Harila's expedition, Lela Peak Expedition, said Mr Hassan died about 150m below the summit.
He said several people tried to help by providing oxygen and warmth to no avail.
Mr Syed said because of the bottleneck's dangerous conditions it would not be possible to retrieve Mr Hassan's body and hand it to the family. He said his company had given money to Mr Hassan's family and would continue to help.
Asked about Mr Hassan's apparent lack of equipment, Mr Syed said the expedition company pays money to porters to buy gear and Mr Hassan was paid the agreed-upon amount.
Claims Hassan had no high-altitude experience
Mr Flaemig, the second climber to make the allegations, claimed Mr Hassan had no high-altitude experience in an interview with Austrian newspaper Der Standard.
"He wasn't equipped properly. He did not have experience. He was a base camp porter and for the first time was picked to be a high-altitude porter. He wasn't qualified for this," he said.
Mr Steindl visited Mr Hassan's family and set up a crowdfunding campaign, with donations reaching more than €114,000 (£98,000) on Saturday.
"I saw the suffering of the family," Mr Steindl told AP. "The widow told me that her husband did all this so that his children would have a chance in life, so that they could go to school."
K2 is widely considered one of the hardest peaks in mountaineering and as of February 2021, some 377 people had summited the mountain while 91 died trying – a ratio of one death for every four successful climbs.
Experts say it is even more dangerous than Everest, the world's tallest peak, because less of the mountain flattens off and it is prone to avalanches and rock falls.