North Koreans have been told they must prioritise safeguarding portraits of the Kim dynasty as the country braces for heavy rains and strong winds caused by tropical storm Khanun.
After battering Japan, the storm made landfall on the Korean Peninsula on Thursday, causing power cuts and flight cancellations in South Korea, before weakening and sweeping into North Korea overnight.
The North Korean capital Pyongyang was put on high alert for flood damage – after thousands of people were evacuated following heavy rains in the South.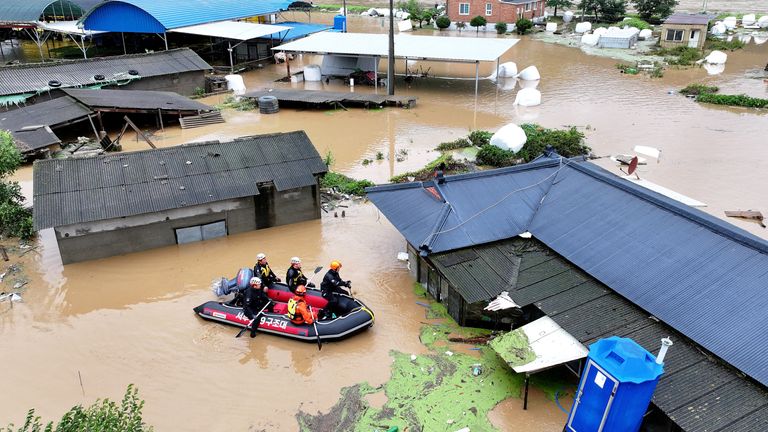 The Rodong Sinmun, the North Korean newspaper that serves as the official mouthpiece of the ruling Workers' Party, reported officials were ordered to implement emergency measures to protect factories and crops against the storm.
It also said people's "foremost focus" should be "ensuring the safety of" propaganda portraits of its current leader Kim Jong Un, his father Kim Jong Il and North Korea's founder Kim Il Sung, as well as statues, mosaics, murals and other monuments to the Kims.
Pyongyang's Korean Central News Agency said all sectors and units in the country were "conducting a dynamic campaign to cope with disastrous abnormal climate".
"Strong wind, downpour, tidal wave and sea warnings were issued," it added.
Read more world news:
55 killed in Hawaii wildfires – number of deaths likely to rise
Americans detained in Iran moved to house arrest after prisoner swap
Military and ruling party officials have been mobilised to minimise the storm's impact on the country's fragile economy.
Meanwhile, South Korean officials lifted a nationwide alert over the storm after Khanun dumped almost half a metre of rain on some areas of the country's coastline.
Many of the 16,000 people evacuated had returned home by Friday, and power was restored to most of the 46,484 homes that lost electricity, officials in the South said.