Footage has emerged of the moment children ducked and screamed in fear as a Russian missile hit a hotel in Ukraine.
Two Russian Iskander missiles hit the Reikartz Hotel in Zaporizhzhia city centre on Thursday evening, leaving one dead and 16 injured – including four children.
Ukraine's defence ministry said the hotel was being used as a children's summer camp which had ended just an hour before the missile strike.
Ukraine war latest: Putin's coup deal 'likely collapsing'
Russia's defence ministry claimed its forces had hit a location where "foreign mercenaries" were quartered.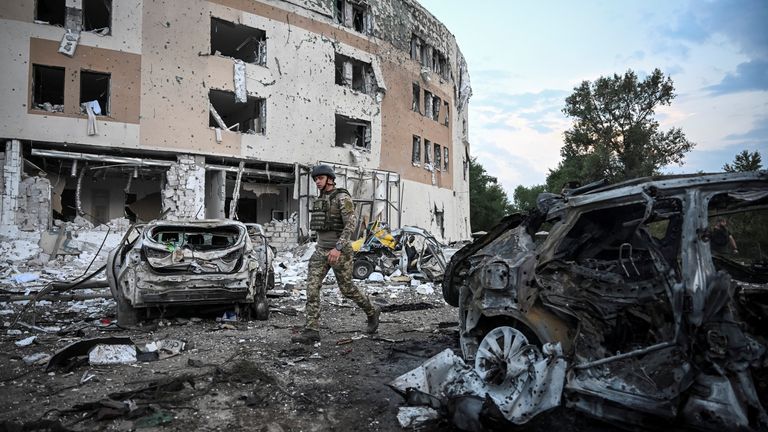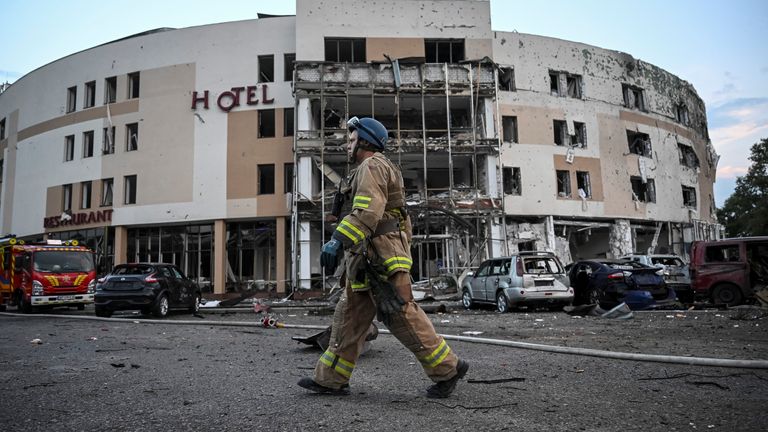 Footage shows children gathered near the smoking hotel duck as a missile flew overhead.
After it hits the hotel they can be heard screaming and crying.
Mykhailo Podolyak, adviser to President Volodymyr Zelenskyy, shared the footage – saying it summed up "Putin's Russia in one video".
Sky News has verified the footage as genuine.
This is the second strike on the Ukrainian city in a week

The United Nations said its staff and NGO workers frequently used the hotel.
Denise Brown, humanitarian coordinator for Ukraine, said: "I am appalled by the news that a hotel frequently used by United Nations personnel and our colleagues from NGOs supporting people affected by the war has been hit by a Russian strike in Zaporizhzhia shortly ago. It is utterly inadmissible.
"I have stayed in this hotel every single time I visited Zaporizhzhia. My team uses it as their base for their frequent travels to the city.
"It was the UN base for the operation to evacuate civilians from the Azovstal plant in Mariupol, in May last year.
"The number of indiscriminate attacks hitting civilian infrastructure, killing and injuring civilians, have reached unimaginable levels – these attacks violate international humanitarian law."
Zaporizhzhia was also hit by a Russian missile attack on Wednesday, which killed two young women and a man and wounded nine others.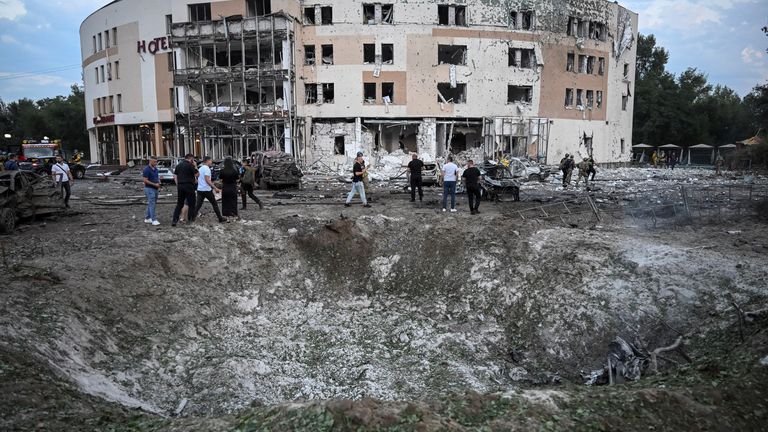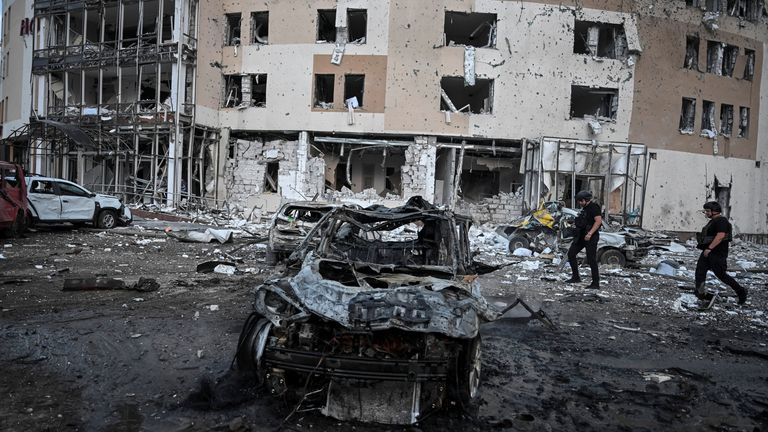 Ukraine begins consultations with UK over security guarantees
It comes as Ukraine began holding consultations with the UK to seal security guarantees.
"Our goal is to have the first such agreements in place by the end of the year," Andriy Yermak, the Ukrainian president's chief of staff said.
"Our consultations with Britain have begun," he added.
Click to subscribe to the Sky News Daily wherever you get your podcasts
Mr Zelenskyy has ramped up calls for more hard guarantees from Western allies, with a particular focus on the US and other major NATO countries.