Hundreds of firefighters in Portugal are battling a wildfire, which is sweeping southward towards the Algarve.
Around 1,400 people have already been evacuated from the blaze, which started on Saturday in the area of Odemira, located south of the capital Lisbon and along Portugal's west coast.
The area is just to the north of Portugal's Faro district, which is home to the Algarve – a popular summer holiday destination.
The fire has spread southward towards the Algarve, helped by high temperatures and strong winds, which have complicated efforts to battle back the flames.
Around 800 firefighters are battling the blaze, which has already destroyed around 6,700 hectares of land.
Odemira's mayor, Helder Guerreiro, called the situation "critical, difficult and complex" while Civil Protection commander Jose Ribeiro said there was a "lot of work" ahead to bring the wildfire under control.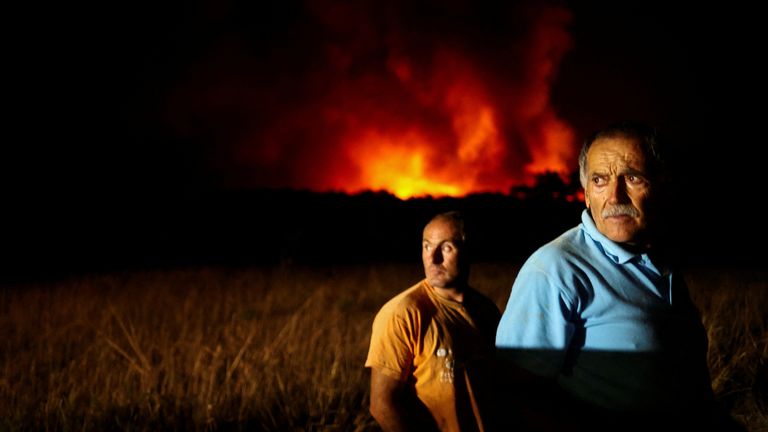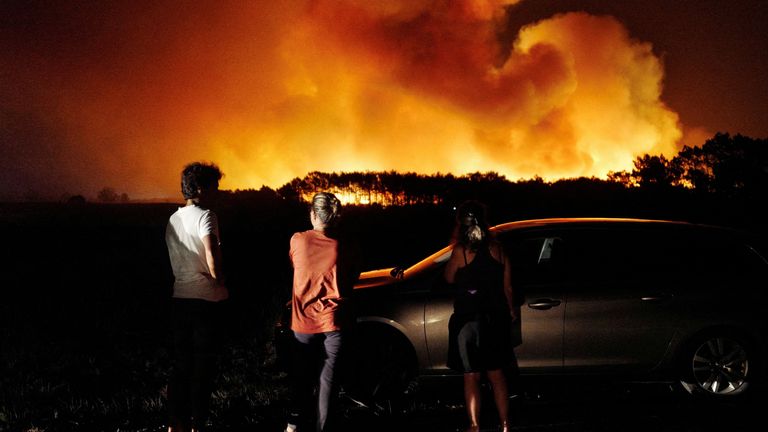 A total of 19 villages, four tourist accommodations and a camping site have been evacuated out of precaution.
Authorities have also blocked off several roads in the area.
On Monday, Portuguese weather agency IPMA put six districts in the country, including the capital, Lisbon, on red alert for extreme heat until midnight, while authorities have put 120 areas across Portugal on maximum alert for wildfires.
Portugal is currently in the middle of its wildfire season, which typically runs from June to September.
The country has in recent years seen spates of hot weather earlier and later in the year, including in April this year, when the temperature in the central town of Mora reached 36.9 C, breaking the record of 36.0 C set in April 1945.
Read more:
Canada border town evacuated as blazes cross into US
Wildfires in nine Mediterranean countries
In 2017, high temperatures throughout the year and low rainfall the previous year meant there were around 2,500 fires recorded in April.
Portugal is the latest southern European country to deal with major wildfires this summer, following large blazes in Greece and Italy last month, amid a series of scorching heatwaves in the region.
Click to subscribe to the Sky News Daily wherever you get your podcasts
Greece's climate change minister last month said firefighters had battled 667 blazes, including ones outside Athens and on the island of Rhodes.
Vassilis Kikilias also told a news conference the vast majority of fires "were caused by human hands" and said they were "arsons either by criminal negligence or by intention".
However, officials have also highlighted the role of climate change in the recent extreme heat across many European countries.
Mr Kikilias warned earlier that the climate crisis "brought us this unprecedented heatwave".
Scientists say heat waves are becoming more frequent, intense and spread out across seasons due to climate change.