The line-up had been billed as a Panini sticker album brought to life… so many football legends on a pitch at the same time.
But there was good reason the likes of Gianfranco Zola, Jack Wilshere and Petr Cech were prepared to lace up their boots and walk out at Chelsea's Stamford Bridge hand-in-hand with Ukrainian school children.
This was about raising money to rebuild their school in Chernihiv, all but destroyed by Russian strikes at the start of the war.
Russian missile attacks across country – Ukraine war latest updates
The special match was in aid of Volodymyr Zelenskyy's UNITED24 campaign, which has already raised more than £250m in donations from over 110 countries.
Kick-off on Saturday evening came as Ukrainian soldiers and civilians alike continue to suffer attacks from Russian soldiers, firing missiles, rockets and drones as the war continues.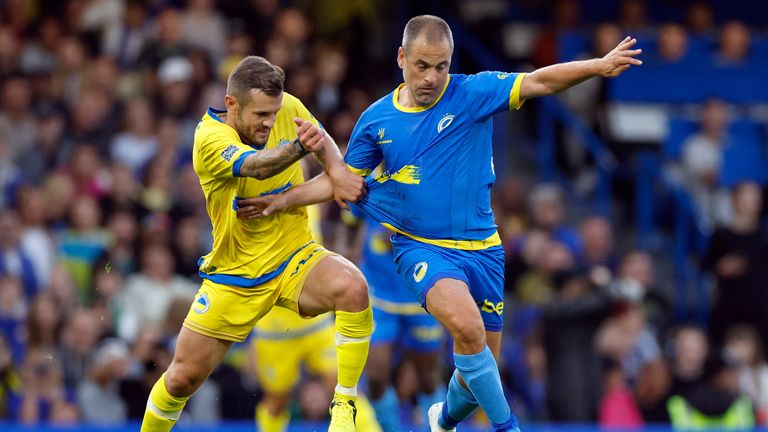 Captaining one of the teams was Arsenal's Oleksandr Zinchenko who said the gathering of such big names sent "a powerful message to the rest of the world that we stick together".
"The job which people did behind the scenes was incredible and I'm so happy to see them all," said the Ukrainian international.
"We're here to be part of something special and the most important thing is to raise funds for the rebuilding of one of the schools in Ukraine."
The teams wore blue and yellow like the colours of Ukraine's flag.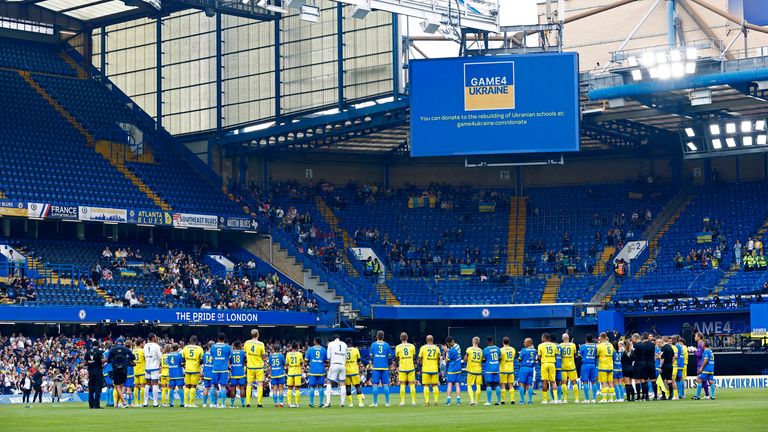 Read more:
The West risks tipping the war in Russia's favour – here's why
Another Russian vessel hit by sea drone near Crimean Bridge, Moscow says
Zinchenko and captain of the Blues, former Chelsea star Andriy Shevchenko, recently returned to Ukraine to see the damage to the Mykhailo-Kotsiubynsky Lyceum for themselves.
Among the young mascots who accompanied the players on to the pitch for the Game4Ukraine was Tanya Bosko, an 11-year-old with plaits who'd flown over for the match.
Her friend was in the school's basement when the bombs fell.
"I'm so, so happy," she said.
"I can't really believe the players played for my school just to rebuild it."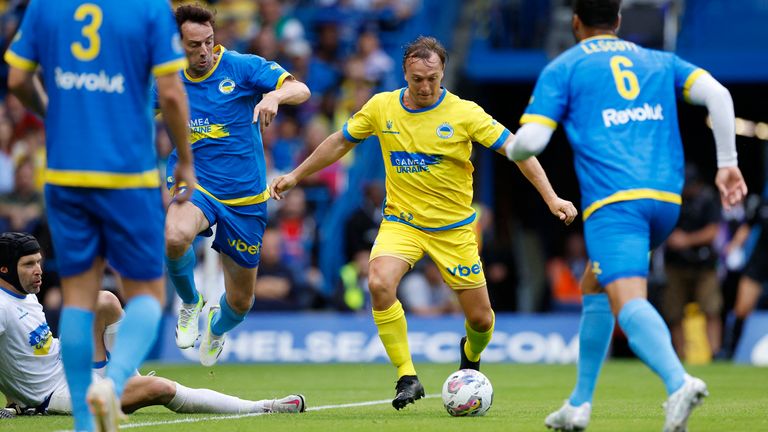 More than 32,000 people attended the fundraiser.
They were treated to performances by the likes of Tom Walker, Pete Doherty and Ukraine's Boombox, whose lead singer has been fighting on the frontline.
Wrapping it all up were The Pretenders with their perfectly picked classic, I'll Stand by You.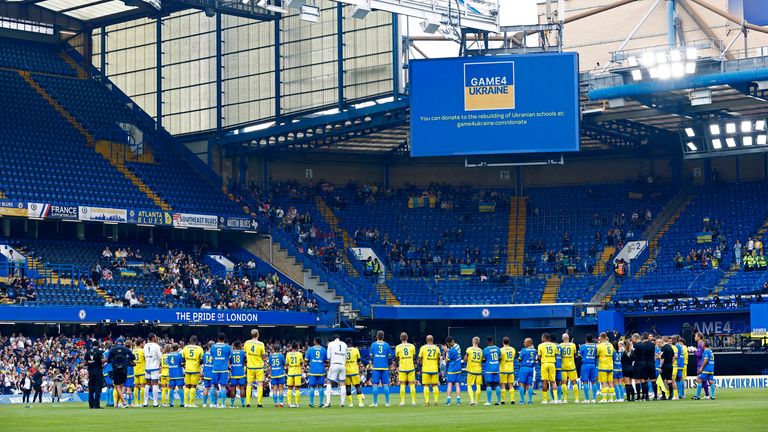 In the end the score was 2-2.
But the event was about much more than football.
It was about solidarity with those enduring so much in a relentless war.