Andrew Tate has claimed "I've done nothing wrong" after a judge in Romania lifted his house arrest pending trial.
The controversial influencer has been held in Romania charged with human trafficking, rape and forming an organised crime group.
He was indicted in June, along with his brother Tristan and two Romanian female suspects, and has been under house arrest since March.
But the Bucharest Court of Appeal announced in a written ruling on Friday that the house arrest will be replaced with a "judicial control" until the start of October.
The pair will be limited to travel within Bucharest and the surrounding Ilfov County.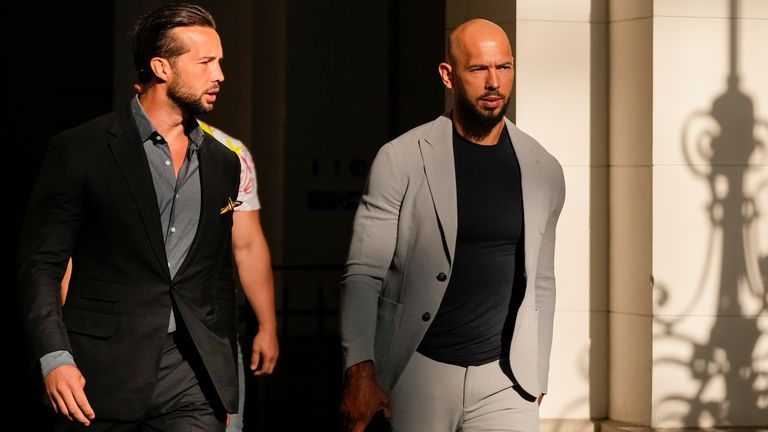 Speaking outside his home in Bucharest following the ruling, Tate said: "We've been completely innocent since the beginning of this, and I have to give absolute faith to the Romanian judicial system for finally making the right decision and letting us free.
"I'm sure in the end we will be absolutely exonerated. I've done nothing wrong, God knows I've done nothing wrong, in my heart, I know I've done nothing wrong.
"I look forward to being completely exonerated in due time."
A spokesperson for the Tate brothers said: "We would like to extend our sincere gratitude to the Romanian judicial system for their fair consideration.
"This positive outcome gives us confidence that more favourable developments are on the horizon and the truth is beginning to prevail."
A good day for the Tate brothers – but not a victory over 'the Matrix'
There is always so much noise around Andrew Tate that it's sometimes hard to sort the facts from the soundbites.
But what's clear here is that, firstly, the Tate brothers are no longer under house arrest but, secondly, the accusations against them haven't gone away.
Instead, today's decision is more procedural than particularly dynamic – it did not come as a surprise.
Plenty of other people, accused of similar crimes in Romania, have made the same judicial journey from custody, to house arrest, to being freed on conditional bail, and then ending up in the courtroom.
This was a good day for the Tate brothers, who now have much more freedom to live their lives, but it was not a victory over the system. Or, as he would put it, the Matrix.
Tate, speaking outside his house in the Bucharest suburbs, was delighted.
He expressed his outrage that the media has reported claims he was "a terrible person who hurt people and made a lot of money from criminal enterprises" and insisted he would be exonerated.
But the fact is that he has been charged with rape, human trafficking and organised crime. People have come forward to make profoundly serious claims against him.
House arrest may have come to an end but the accusations haven't and his trial will decide his fate, whatever he now proclaims.
As for that trial, the fact that the defendants are no longer on house arrest has actually moved it down the priority list.
The indications are that it will start in September. But, as with so much in this case, let's wait until we know for sure.
In a post on X, formerly known as Twitter, Tate added: "After 10 months – three in jail, seven at home.
"After €15m of asset seizures. After an indictment based on nothing. The file was passed to a judge, who has ruled it weak and circumstantial.
"I have been released from house arrest, but must remain within Romania."
Tate was indicted in June along with his brother Tristan and two Romanian female suspects over alleged human trafficking, rape and forming a criminal gang to sexually exploit women.
The Tate brothers are accused of tricking seven women into sexual exploitation on fake promises of a relationship or marriage – a technique authorities have labelled the "loverboy method".
It is alleged that the Tate brothers, along with the two Romanian female suspects, formed the group in 2021 to commit human trafficking in Romania and other countries – including the US and UK.
July 2023: Andrew Tate: 'God has put us on this path'

Read more:
Andrew Tate sues woman who accused him of human trafficking
How the arrest of controversial influencer has impacted his Twitter following
The brothers were first arrested at a property in Bucharest in December last year and held in custody until March – when they were released under house arrest.
The former professional kickboxer has repeatedly claimed Romanian prosecutors have no evidence and alleged the case is a political conspiracy designed to silence him.
Tate, who has been based mainly in Romania since 2017, is an online influencer who has amassed millions of followers, particularly among young men.