Greece's prime minister has offered a week-long free holiday in Rhodes next year for tourists whose vacation was cut short by wildfires.
Blazes fanned by strong winds broke out on the Greek island and burned for days last month, damaging homes and hotels and forcing the evacuation of thousands.
Greece said it was the largest evacuation the country had ever undertaken, with more than 20,000 tourists and locals forced to flee homes and seaside hotels.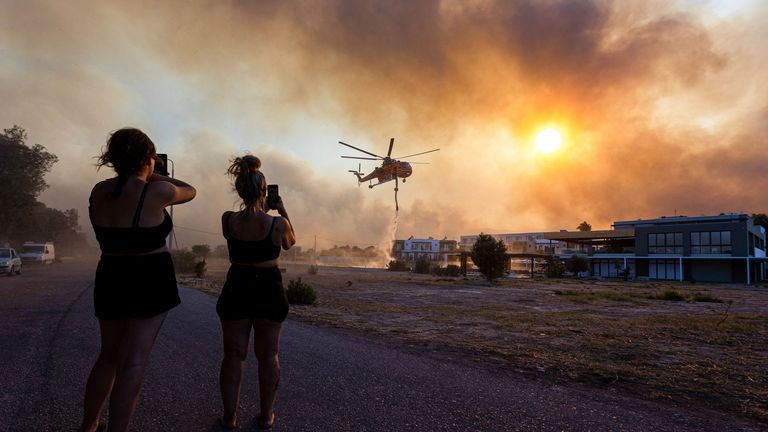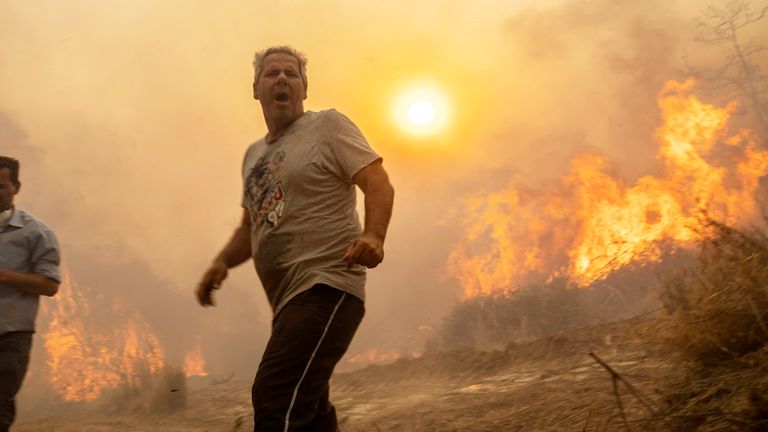 Greek Prime Minister Kyriakos Mitsotakis said the authorities "understand that it caused some inconvenience for visitors" and Greece would offer a one-week free holiday in Rhodes.
Speaking on ITV's Good Morning Britain, he said the wildfires affected 15% of the island but pointed out "no lives were lost in Rhodes, no injuries reported" and said the situation there was "back to normal".
"For all those whose holiday was cut short as a result of wildfires, the Greek government in cooperation with local authorities will offer one week of free holidays on Rhodes, next spring, the next fall, so that we make sure they come back to the island and enjoy its natural beauty," Mr Mitsotakis said.
The prime minister said wildfires in the Mediterranean are not unusual, but climate change has increased their intensity.
He celebrated the hospitality of the people of Rhodes, saying they were "incredibly supportive".
Meanwhile, Greek authorities said 45 buildings had been damaged on the island, according to an initial assessment of the Rhodes blazes' impact.
Read more:
In pictures: Terror of the Greece wildfires
How wildfires spread across Rhodes – and how much has been affected
Greece plans tougher penalties for arson
It comes after Greek authorities said they were planning tougher penalties for arson, with fines increased to 10 times the current level, following a spate of wildfires across the country.
The country's minister for climate crisis and civil protection, Vassilis Kikilias, said the changes would include school programmes and local initiatives to promote forest fire prevention awareness.
Greece fought 10 major wildfires last month, including blazes outside the capital Athens, during three successive heat waves.
Click to subscribe to the Sky News Daily wherever you get your podcasts
Mr Kikilias previously said the majority of fires were started by "human hand" and were "arsons either by criminal negligence or by intention".