Denmark is to consider a new law banning the desecration of religious books in front of foreign embassies over security fears.
It comes after a string of Koran burning incidents in Denmark and Sweden sparked angry protests – and threatened a diplomatic crisis between the two countries and Muslim nations.
Sweden is also "assessing" the legal situation after its embassy in Iraq was stormed by protesters in response to the burning of the Koran outside the Iraqi embassy in Stockholm last month.
On Sunday, Denmark's foreign minister Lars Lokke Rasmussen said that the burning of holy scriptures "only serves the purpose of creating division in a world that actually needs unity".
"That is why we have decided in the government that we will look at how, in very special situations, we can put an end to mockery of other countries, which is in direct conflict with Danish interests and the safety of the Danes," he told the Danish public broadcaster DR.
Read more:
Three injured amid unrest over planned Koran burnings
Muhammad cartoonist dies in car crash while under police protection
Protests at Swedish embassy in Baghdad

Burning protests
It comes after a recent string of public Koran desecrations by anti-Islam activists in Denmark and neighbouring Sweden sparked angry demonstrations in Muslim countries.
Last month, an Iraqi Christian refugee living in Sweden burned a copy of the religious text outside Stockholm's central mosque.
There were also burning protest related to Sweden's application to join NATO.
Those behind the incidents had hoped to stoke tensions with Turkey, which had previously vetoed Sweden's entry to the alliance over long-running diplomatic disputes.
The protests later spread to neighbouring Denmark, where far-right activists set fire to a Koran next to an Iraqi flag earlier this month.
The Koran is Islam's sacred text, and causing damage to it is considered highly offensive to Muslims.
But Sweden and Denmark both have strong freedom of speech laws, and authorities had given permission for the protests in advance.
This sparked anger from Muslim countries – including Turkey, Iraq and Algeria.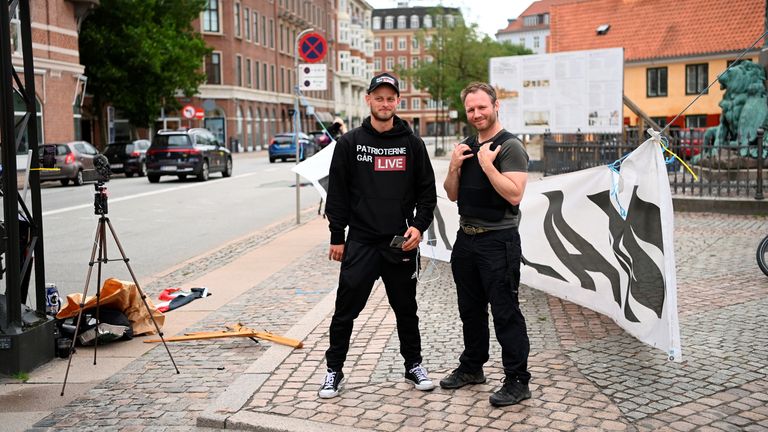 Protesters storm embassies
Earlier this month, protesters in Iraq stormed the Swedish embassy in central Baghdad, scaling the walls of the compound and setting it on fire.
Days later, hundreds of protesters attempted to storm the city's heavily fortified diplomatic zone in response to the Koran burning incident in Denmark.
According to Mr Lokke Rasmussen, five Korans were burnt on Sunday in front of foreign embassies in the Danish capital Copenhagen, while another seven were due to be set alight on Monday.
He said the Danish government was determined to find "a legal tool" to ban such acts without compromising the county's freedom of expression laws.
"There must be room for religious criticism, and we have no thoughts of reintroducing a blasphemy clause," he told DR.
"But when you stand up in front of a foreign embassy and burn a Koran or burn the Torah scroll in front of the Israeli embassy, it serves no other purpose than to mock."
'Deeply offensive'
The Danish government previously reiterated its commitment to freedom of expression in a statement on Sunday.
But it added that the burning of the Koran had resulted in the nation being viewed in many places around the world as a country "that facilitates insult and denigration of the cultures, religions, and traditions of other countries".
It also condemned desecrations as "deeply offensive and reckless acts committed by few individuals" and "do not represent the values the Danish society is built on".
In Sweden, Prime Minister Ulf Kristersson said on Sunday that his government is analysing the legal situation regarding desecration of the Koran and other holy books.
"We are in the most serious security policy situation since the Second World War," Mr Kristersson said.
The Organisation of Islamic Co-operation called an emergency remote meeting on Monday to discuss the Koran burnings in Sweden and Denmark.