England are on the brink of the knockout stages of the Women's World Cup after beating Denmark 1-0 in the second group game of the tournament.
The Lionesses will book their place in the last 16 if China fail to beat Haiti in the other late kick-off match.
The women's national side were ahead after just six minutes when Chelsea's Lauren James lifted the ball past diving Denmark keeper Lene Christensen.
But England suffered a blow when Keira Walsh was taken off the pitch on a stretcher before half-time with a knee injury.
The 26-year-old midfielder, who was a key part of the England team that won the Euros last year, crumpled to the floor at the Sydney stadium without contact in the 38th minute and immediately called for medical assistance.
Walsh slid to collect the ball and was in immediate pain when she stopped. She waved off help from her teammates as she could clearly be seen in tears and telling the team's medical staff: "I've done my knee."
The Champions League winner with Barcelona, who was named player-of-the-match in the Euro 2022 final, later appeared on the touchline using crutches.
Speaking after the match, England goalscorer James told BBC Sport: "It was a dream, something I've been thinking about, but most importantly happy to help the team win.
"But as soon as it hit the net it was just a relief.
"(My teammates) were really happy for me and to be fair, they said it before the game they had a good feeling about me today and I'm just thankful I've got good people around me.
"I'm calm all around on and off the pitch and I try to bring that to my game as well and today it showed that and helped."
Read more:
Is there an ACL 'epidemic' in women's football?
Everything you need to know about the Women's World Cup
England manager Sarina Wiegman said: "I think we started well, we played well, we scored that goal, we had a little stage in the first half that we lost balls we didn't have to lose, but we got the rhythm in the game.
"Then of course we got this horrible moment with Keira, she had to go out, the second half it was a fight.
"We adapted to the new situation, we had to fight for the win and that's what we did so I'm very proud of the team."
Praising James, who was one of two changes coming into the team, Wiegman told the BBC: "For me it doesn't matter who scores the goals, they played well, started well and LJ made a very beautiful goal so that's very nice."
On Walsh's injury, she said: "It looked serious, if you can't walk off the pitch it's serious, but I don't know. We just finished the game.
"I haven't heard anything yet, you're in the game you just have to move on and now it's time to have a look at how she is and what the next steps are."
Rachel Daly was another player coming into the squad for the match, slotting into defence.
"I will play anywhere for this team, it's an honour to be anywhere on this pitch with this team," she told BBC Sport.
"Putting on this shirt in any position I'm needed, I'm happy to."
She also said she has her "fingers crossed" that Walsh's injury is not as bad as it first appears.
"It's not nice to see anyone go off injured, but Keira's Keira, she's an integral part of this team on and off the pitch but I'm hoping it's not too serious," Daly added.
After the match, one England fan praised the win as "amazing".
Isabel Herrick said: "It was so good to score so early on but I'm just really pleased that we held on until the end.
"I think we've got this [the World Cup] in the bag. We've got this."
However, not everyone was as enthused. Former Brighton player Charlotte Young said the performance "wasn't very convincing" despite a strong start to the match.
She said: "I thought we would improve on the last performance. I think we just went a bit backwards in that early second half. I don't think we really got hold of the game.
"I think we looked better when the subs were made but I was still disappointed with our overall performance."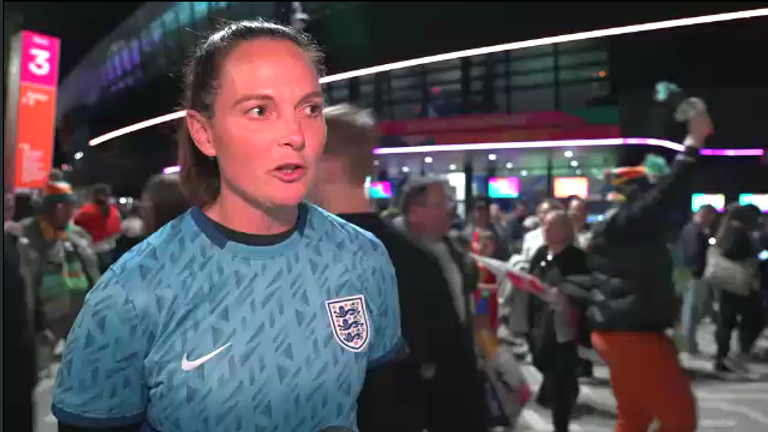 Reacting to the news Gianni Infantino will not be present at all of the World Cup, Young hopes that he will attend the final and show "that level of support and without him doing that [she thinks] it's a little bit disrespectful".
The fourth-ranked Lionesses, who defeated Haiti 1-0 in their opener, play China on 1 August in their final group game.
Denmark, who beat China 1-0 to kick off their campaign, play Haiti the same day.