There is outrage in India over a video of tribal women being paraded naked and assaulted – with one allegedly gang raped during the incident in the northeastern state of Manipur.  
It happened on 4 May in Thoubal district in the majority Meitei-dominated valley, less than 20 miles from the state capital Imphal.
The women from the Kuki-Zomi tribe are shown being paraded naked by dozens of men who were assaulting them.
They later filed a police complaint saying one of them had been gang raped.
Ethnic violence has caused chaos in the region in recent months, with more than 130 killed, tens of thousands displaced and temples, churches and homes burned down.
In their statement, the women said hundreds of people from the majority community, some carrying weapons, had entered their village and began looting and burning homes.
They said five of them ran towards the forest for safety.
The women were found by police, but the mob seized them a mile short of the police station.
The father of a 20-year-old woman was killed and three women were made to strip at gunpoint before being led around naked.
The youngest woman was raped in front of them and her brother was killed when he tried to protect her.
The women managed to escape and were taken to a relief camp.
"My heart is full of pain and anger, what has happened to the daughters of Manipur can never be forgiven," said Prime Minister Narendra Modi.
Manipur: 'My heart is full of pain'

"The incident is shameful for the country, the guilty will not be spared."
India's chief justice, DY Chandrachud, called it "deeply disturbing and simply unacceptable".
"Using women as an instrument in an area of communal strife. It's the grossest of constitutional abuse… If the government does not act, we will," he said.
Under mounting pressure, police made their first arrest 78 days after the incident, detaining a 32-year-old man seen in the video wearing a green T-shirt.
Police have registered a case of abduction, gang rape and murder against unknown people and are trying to identify others in the video.
Read more on Sky News:
'I was thrown in jail with al Qaeda terrorists over a £4,000 debt'
'Lioness' still on the loose in Berlin – as school children told to stay inside
Manipur's chief minister, Biren Singh, promised firm action and said capital punishment would be considered.
The Indigenous Tribal Leaders' Forum (ITLF) said the video showed men constantly molesting the helpless women, who cry and plead with their captors.
Tens of thousands displaced
Ethnic clashes have taken place since the start of May between the politically-dominant Meitei Hindu community of the valley and the Christian Kuki-Zomi tribals who live in the hills.
It began when the state high court, on the government's recommendation, gave the Meitei 'tribal' status – entitling them to the same benefits and quotas as the minority Kuki-Zomi.
A protest by tribal students on the 3 May escalated into violence on both sides and more than 130 people have been killed and thousands injured.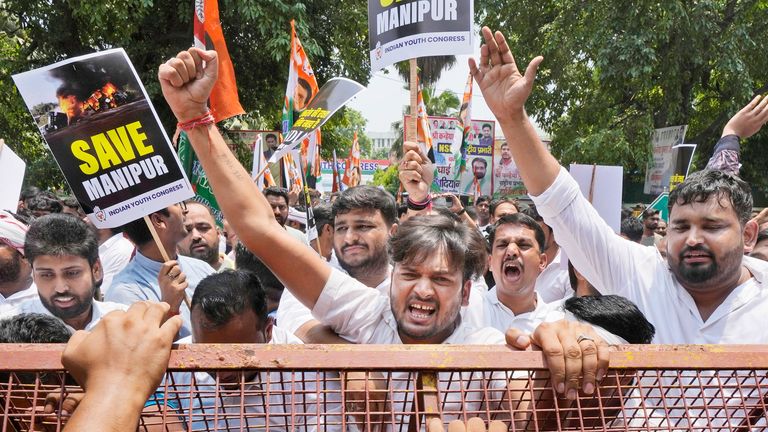 Over 60,000 people from both communities have been displaced and many live in relief camps.
Hundreds of homes, businesses, churches and Hindu temples have also been burned down.
Some 10,000 army and paramilitary soldiers have been deployed across the state to restore law and order. Curfew and restrictions on movement have been put in place in sensitive areas.
Both communities have formed armed vigilante groups that have put up bunkers and carry out patrols to protect their neighbourhoods.
The internet has also been shut down since the violence started.
The ethnic clashes have widened the schism between the two communities and the latest incident will make peace even harder in the strife-torn state.