Two people have been killed in a shooting in Auckland, New Zealand, just hours before the FIFA Women's World Cup kicks off in the city.
Police said the gunman, 24, also died following the rampage at a construction site, close to a hotel where several teams, including the Norway squad, have been staying.
Officers said the man opened fire with a pump-action shotgun at around 7.20am and made his way through a building on the site, until he was cornered by police in an elevator shaft on its upper floors.
It was unclear if he was shot by police or killed himself.
At least five people were also injured, including a police officer who was rushed to hospital in a critical condition but is now said to be stable.
Several construction workers managed to hide from the gunman during the shooting and were discovered afterwards by officers.
Police Commissioner Andrew Coster said the shooter had been employed at the building site and that "his presence at the site this morning was connected with that work."
He also confirmed that the man had been wearing an ankle bracelet monitor and was the subject of a home detention sentence, reportedly for domestic violence, but had been granted an exemption to go to work.
"Thankfully many people were able to escape the building, but I know that for those who hid or remained trapped in the building, this was a terrifying experience," he added.
Norway captain Maren Mjelde said people were woken by the sound of a helicopter hovering outside the team's hotel.
She said: "We felt safe the whole time.
"FIFA has a good security system at the hotel, and we have our own security officer in the squad. Everyone seems calm and we are preparing as normal for the game tonight."
Shooting 'isolated'
New Zealand's Prime Minster Chris Hipkins said there was "no wider security threat" and vowed that the tournament would go ahead as planned.
He told reporters: "Clearly with the FIFA World Cup kicking off this evening, there are a lot of eyes on Auckland.
"The government has spoken to FIFA organizers this morning and the tournament will proceed as planned. I want to reiterate that there is no wider national security threat. This appears to be the action of one individual."
Acting Police Superintendent Sunny Patel said: "Upon reaching the upper levels of the building, the male has contained himself within the elevator shaft and our staff have attempted to engage with him.
"Further shots were fired from the male and he was located deceased a short time later."
Police also described the shooting as "isolated".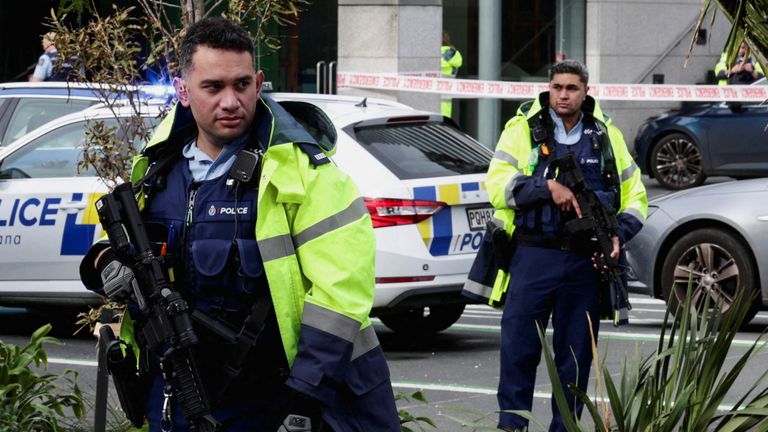 An investigation into what happened has been launched.
It comes as New Zealand and Norway are set to open the tournament on Thursday at Auckland's Eden Park stadium.
Officials said security would be increased at the venue following the shooting.
The match kicks off at 7pm local time, which is 8am UK time.
The month-long, 32-team tournament is being co-hosted by New Zealand and Australia, which will host the final on 20 August.