The search for a missing two-year-old boy in the French Alps has been called off, police have said.
The boy, named only as Emile, was last seen walking down the street near his grandparents' house by two witnesses on Saturday afternoon, according to authorities.
They live in a remote mountain village with only two dozen inhabitants just outside Le Vernet in the Alpes-de-Haute-Provence between Grenoble and Nice.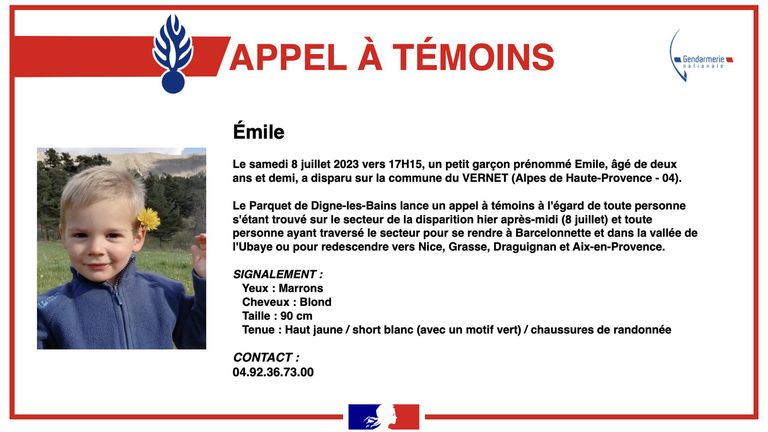 On Wednesday, police said it was ending its physical search for the boy, and instead moving on to an exploration of the information they have collected so far.
In a statement given to AFP news agency, Remy Avon, the prosecutor of Digne-les-Bains, said: "The judicial investigation into the causes of the disappearance will continue, in particular by analysing the considerable mass of information and elements collected over the past four days."
He also conceded there were very few clues about the toddler's disappearance, and added that a blood stain found in a car had been sent for analysis but was discovered to be from an animal.
Previously, police and gendarmes had entered every building in the small settlement where Emile went missing – and some 500 volunteers helped with the search, looking in the forests and fields that surround the village.
Mr Avon added that the possibility Emile went missing alone would not be ruled out, "even if this probability is very small".
The local mayor, Francois Balique, earlier told French TV: "The family was getting ready to leave the house to go on an outing. He took advantage of this fleeting moment to leave.
"His grandparents realised he was no longer there when they went to put him in the car."
BFM TV said authorities were using a recorded voice message by Emile's mother, broadcast over loudspeakers from a helicopter, in the area of the search.