Officers in Marseille fired tear gas at protesters as the escalating crisis in France continues after the fatal police shooting of a 17-year-old boy.
Sky News footage shows crowds dispersing in the moments after the substance was deployed by officers.
Police in Paris cleared protesters from the Place de la Concorde and increased security at the city's landmark Champs Elysees avenue after a call on social media to gather there.
Officers later said they arrested 37 people in the French capital after officers confiscated weapons in the area.
Some 2,400 people have been arrested after five nights of violent protests throughout the country following the death of 17-year-old Nahel Merzouk, who was shot by police during a traffic stop in a Paris suburb on Tuesday.
People have taken to the streets over consecutive nights to protest, setting cars alight, throwing stones and fireworks, and ransacking shops.
A funeral for the teenager was held in Nanterre on Saturday afternoon, with family and friends viewing an open coffin before it was taken to a mosque for a ceremony and later burial.
Dozens of people were seen outside the entrance to the cemetery paying their respects.
'Cut the engine or I'll shoot you'

French President Emmanuel Macron postponed a state visit to Germany due to the ongoing crisis, in a clear sign of the significance of France's unrest given the importance of its relationship with Germany.
Mr Macron spoke with his German counterpart Frank-Walter Steinmeier to brief him on the situation, a spokesperson for the German president said.
"President Macron has asked that the planned state visit to Germany will be postponed," the spokesperson added.
It is the second time in months French unrest has hurt Mr Macron diplomatically, after the King cancelled his first foreign visit as UK monarch because of protests over Mr Macron's pension reform plans.
Looters break into gun shop

Nahel's killing ignited long-simmering tensions between police and young people in housing projects who struggle with poverty, unemployment and racial discrimination.
Police clampdown in Paris

It has resulted in the worst riots France has seen in years and put pressure on Mr Macron, who has blamed social media for fuelling the violence.
Street clashes continue to rage
'Resolute action' in Paris

Early on Saturday firefighters in Nanterre, on the outskirts of Paris, extinguished blazes set by protesters that left the scorched remains of cars strewn across the streets, while in the neighbouring suburb of Colombes protesters overturned bins to use them as makeshift barricades.
On Friday evening looters broke into a gun shop and stole weapons in the Mediterranean port city of Marseille, police said.
Despite Mr Macron's appeal to parents to keep their children at home, street clashes between young protesters and police raged on, with authorities saying around 2,500 fires have been set and stores were ransacked.
Read more:
Witness says police threatened teen before fatal shooting
Macron faces backlash over attending Elton John gig during riots
Why is there a history of rioting in France's suburbs?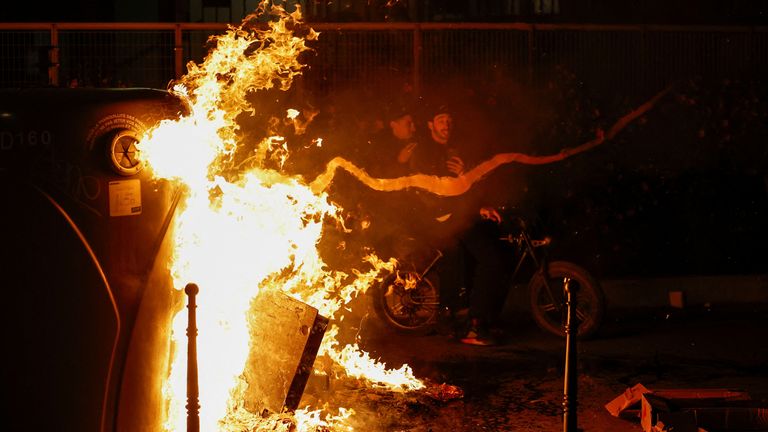 Nearly 2,400 arrested
As the number of arrests increased the government suggested the violence was beginning to subside due to tougher security measures.
However, the damage has been widespread from Paris to Marseille and Lyon, and even further away in the French overseas territories, where a 54-year-old died after being hit by a stray bullet in French Guiana.
Disorder continues across France

National football team pleads for end to violence
France's national football team – including international star Kylian Mbappe, an idol to many young people in the disadvantaged neighbourhoods where the anger is rooted – pleaded for an end to the violence.
"Many of us are from working-class neighbourhoods, we too share this feeling of pain and sadness" over the killing of Nahel, the players said in a statement.
"Violence resolves nothing. There are other peaceful and constructive ways to express yourself."
They said it is time for "mourning, dialogue and reconstruction" instead.