King Willem-Alexander has apologised and asked for forgiveness over the Netherlands' historic involvement in slavery, describing it as "a crime against humanity".
The monarch was speaking at an event to commemorate the 160th anniversary of the abolition of slavery in the country, including its former colonies in the Caribbean.
It is part of a wider reckoning with colonial histories in the West that have been spurred in recent years by the Black Lives Matter movement.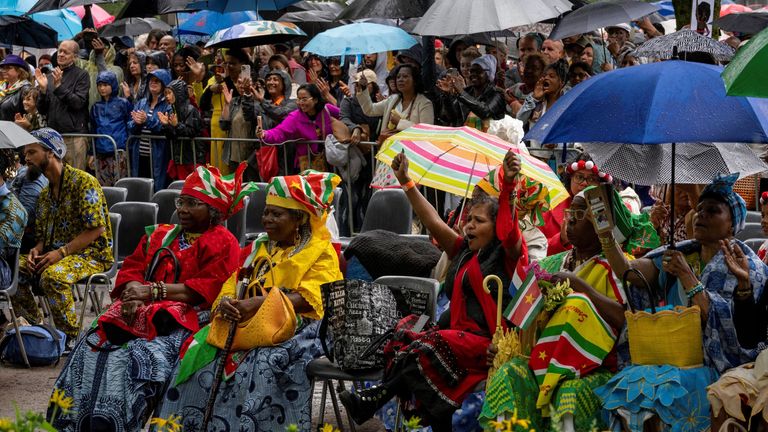 Addressing thousands of onlookers at the national slavery monument in Amsterdam's Oosterpark, Willem-Alexander said: "On this day that we remember the Dutch history of slavery, I ask forgiveness for this crime against humanity."
He admitted that racism in Dutch society remains a problem, but added that "times have changed and Keti Koti… the chains have truly been broken".
"Keti Koti" are Surinamese words that mean the "the chain is broken". It is the title given to 1 July as a day of remembrance of slavery and celebration of freedom in the Netherlands.
The Dutch king's speech follows a similar apology made by the country's prime minister Mark Rutte in December 2022.
Willem-Alexander referred back to this as he addressed the crowd, saying: "Today I stand before you. Today, as your king and as a member of the government, I make this apology myself. And I feel the weight of the words in my heart and my soul."
In December, Mr Rutte acknowledged the Dutch state bears a responsibility in the Atlantic slave trade and that it profited from it.
However, he has said the government will not pay reparations, as recommended by an advisory panel in 2021.
Willem-Alexander apologised in Indonesia in 2020 for "excessive violence" during Dutch colonial rule. And at the beginning of 2022, he ruled out using the royal family's golden carriage after claims a painting on it glorified the country's colonial past.