At least eight people have been killed – including three children – and 56 injured after a Russian missile struck a pizza restaurant in the eastern Ukrainian city of Kramatorsk in the Donetsk region.
A second missile hit a village on the fringes of the city, injuring five people.
WARNING: This story contains distressing content
"I ran here after the explosion because I rented a cafe here… Everything has been blown out there," a woman in Kramatorsk told Reuters news agency.
"None of the glass, windows or doors are left. All I see is destruction, fear and horror."
Russia-Ukraine war latest: Video shows devastation caused by Kramatorsk missile attack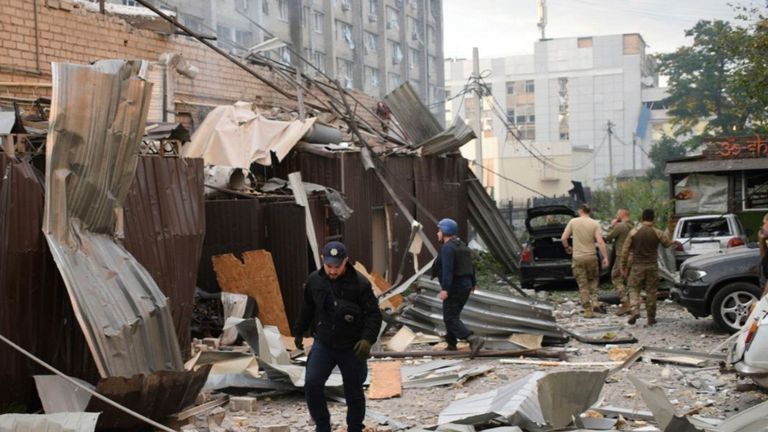 "Rescuers are working through the rubble of the destroyed building and searching for people who are probably still under it," emergency service officials said on the Telegram messaging app.
The missile strike occurred on Tuesday evening in a busy shopping area – and the pizza restaurant was reported to be popular with journalists.
A freelance journalist said he was in the RIA pizza restaurant 10 minutes before it was hit.
Arnaud De Decker said that an hour after the explosions, he could still hear "people screaming underneath the rubble".
He shared a photo of his meal on social media about 20 minutes before the attack took place.
Images showed the building reduced to a twisted web of metal beams with rescue teams searching the area for survivors.
Pavlo Kyrylenko, governor of the Donetsk region, said emergency services were trying to establish the total number of casualties.
"This is the city centre. These were public eating places crowded with civilians," he told Ukrainian television.
Ukraine's First Lady Olena Zelenska also condemned the attack.
"Crowded place, evening – enemy do not want normal life in Ukraine," she wrote on Twitter.
"There are a lot of wounded. It is painful."
Children injured in deadly attack on Kramatorsk

Ukraine's defence ministry shared footage showing the extensive damage to local buildings and a distressed mother looking for her missing daughter, who she said worked in the restaurant that was hit.
In a statement it said: "Russia is still targeting civilians in Ukraine.
"At least eight people, including three children, have died and 56, including an infant, have been injured."
Sky News' international affairs editor Dominic Waghorn said the restaurant was popular with locals and well known to foreign journalists who would often stop there on their way to the frontline.
He said an eight-month-old baby is one of the dozens injured.
"For some reason, someone in the Russian military thought it would be a good idea to fire an S-300, a surface-to-air missile," Waghorn said.
"That's a missile that's seven metres long, packed with explosives, normally fired from the back of a truck and designed to bring down a plane.
"It's a pretty accurate bit of ammunition. So they probably knew exactly what they were firing at and unless there was a military justification for attacking a pizza restaurant, which almost certainly there wasn't, this is an alleged war crime."
Read more:
Dramatic footage of Wagner march show how events unfolded – and what may happen next
Ukraine has recaptured territory held by Russia since 2014
Asked about the attack in Kramatorsk, a spokesperson for the White House National Security Council said: "We condemn Russia's brutal strikes against the people of Ukraine, which have caused widespread death and destruction and taken the lives of so many Ukrainian civilians."
Russia has repeatedly denied targeting civilians since invading Ukraine on 24 February last year.
The Russian strikes are among the first since an aborted mutiny at the weekend.
Click to subscribe to the Sky News Daily wherever you get your podcasts
Russian President Vladimir Putin has said he let the armed march on Moscow by the Wagner mercenaries go on as long as it did to avoid bloodshed, while the group's boss Yevgeny Prigozhin who led the uprising has said he never intended to overthrow the government.
Russian authorities say they have closed a criminal investigation into the uprising and are pressing no armed rebellion charge against Prigozhin or his followers.