Inmates in Honduras were forced to sit half-naked in rows as soldiers searched for contraband in a sweep of the country's violent prisons by the military.
Honduran President Xiomara Castro has vowed to tackle gang violence and has also put curfews in place.
The crackdown comes after last week's gang-related massacre of 46 female inmates – the worst atrocity at a women's prison in recent memory.
On Monday, the military said cell blocks were searched where hundreds of rounds of ammunition, pistols, assault rifles and grenades were found.
Official footage showed hundreds of shirtless male inmates, many tattooed and with their heads shaved, sitting on the floor in packed rows at Honduras's high-security Tamara prison with their arms over their heads, guarded by heavily armed soldiers.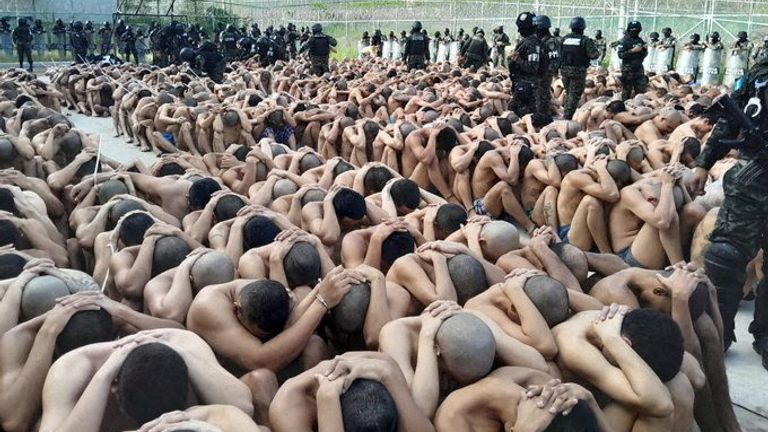 The massacre in Tamara, northeast of the capital Tegucigalpa, sparked outrage – triggering raids.
Women inmates belonging to the Barrio 18 street gang smuggled in guns, machetes and a flammable liquid.
They subdued prison guards and burst into cell blocks housing members of a rival gang, spraying the victims with gunfire, hacked others to death and then locked their cells and set them on fire.
Gangs often have significant influence in the country's prisons, where inmates set their own rules and sell prohibited goods.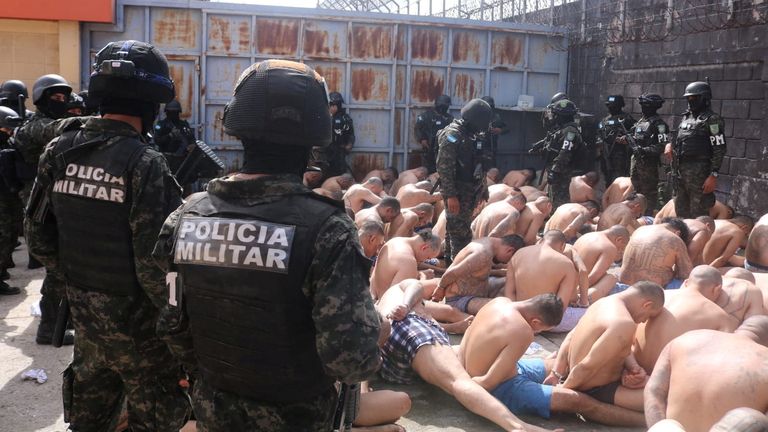 Read more world news:
Groom dies 10 minutes after getting married
Tourist filmed carving girlfriend's name into Rome's Colosseum
Decades of research 'destroyed' after cleaner turns off lab freezer
The images from Monday mirror similar tactics used in neighbouring El Salvador which beefed up prison security in its crackdown on gangs earlier this year.
Honduran police also arrested a suspect in a weekend pool hall shooting in the city of Choloma that killed 11 people.
National Police Commissioner Miguel Pérez Suazo said the shooting and massacre at the Tamara prison could be related and authorities have not ruled out that it could have been "some sort of revenge".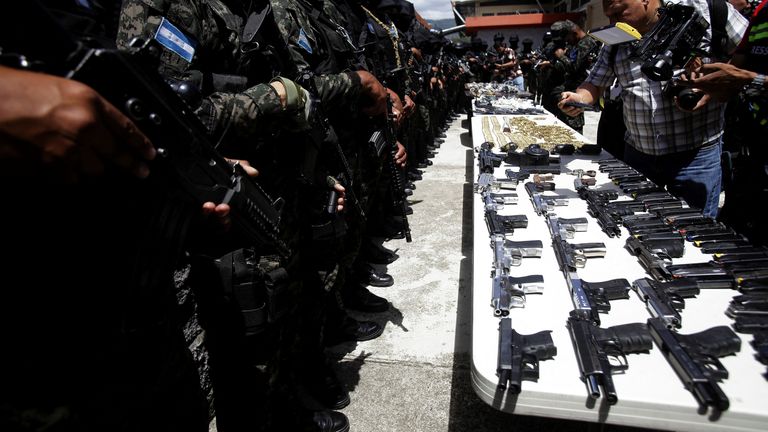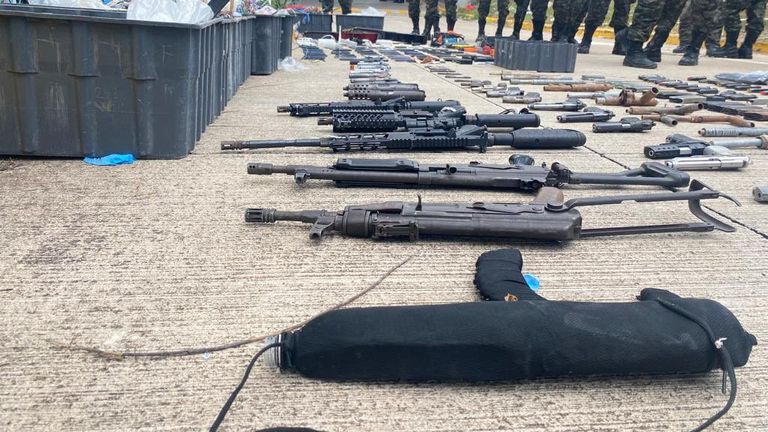 Ms Castro, who has put the armed forces in charge of the country's poorly run prisons, has given the military a year to train new guards.
In addition to curfews in the Choloma area, she has announced "raids, captures and checkpoints – 24 hours a day".
The curfew in Choloma will run from 9pm until 4am, with another in the nearby city of San Pedro Sula beginning on 4 July.
Around 20,000 inmates co-exist in 26 overcrowded prisons, with a United Nations report saying the country's jails are 34.2% over capacity.